Do you know the safest place in the campus building where you work or learn? What about where to find the nearest AED?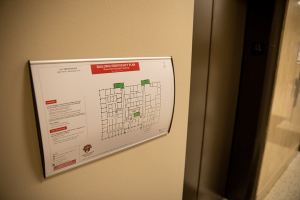 The University of Alabama's Office of Emergency Management has placed Building Emergency Plans in each building on campus to help you. These plans are more than just maps of the interior of buildings. They contain information that could save your life in an emergency. Building Emergency Plans can be found near exits and elevators.
During certain emergencies, like a fire, explosion or structural collapse, you may be directed to evacuate the building. Evacuation routes are clearly marked on the plans.
When directed by emergency officials to shelter in place in emergencies where it's dangerous to leave the building, a best available refuge area, or BARA, for each building is identified on the Building Emergency Plan.
Building Emergency Plans also show the location of fire extinguishers, fire alarm pull boxes, and Automated External Defibrillators, or AEDs, which can be used for sudden cardiac arrest medical emergencies.
Want more information about safety in a particular building? Each building has a representative who serves as a point of contact for safety information and as a liaison to the Office of Emergency Management for safety-related questions. Find your building representative.
Learn more about what to do if an emergency happens in a campus building by visiting the Office of Emergency Management's website, and download the UA Safety app for your mobile device.
Safety Reminder: UA Alert System Test
Weather permitting, the University will test its emergency notification systems, including UA Alerts, the public address system and digital signage, Wednesday, June 2, at 11:55 a.m.