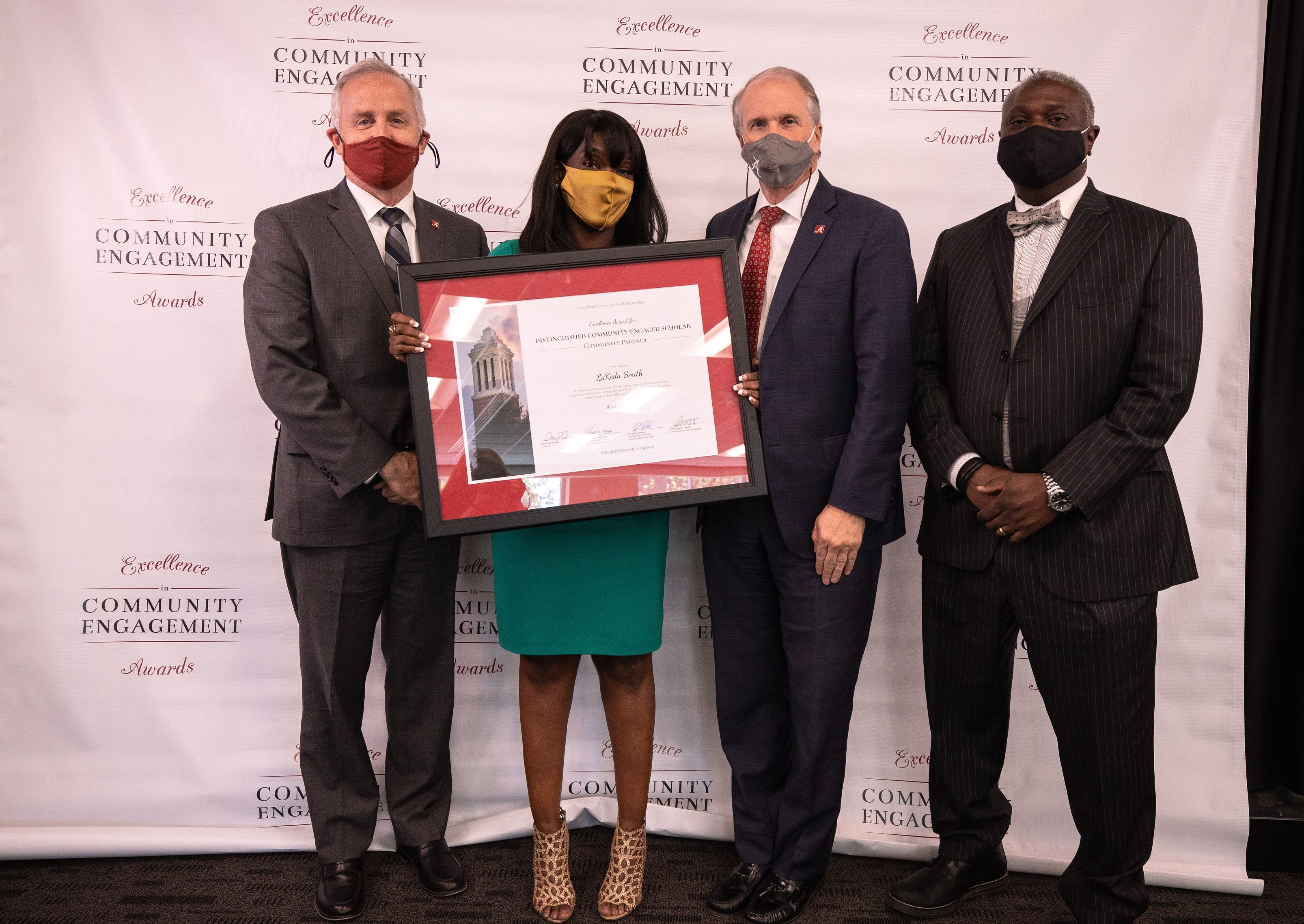 The University of Alabama's Council on Community-Based Partnerships bestowed honors upon more than a dozen people and community partners at its 15th annual Excellence in Community Engagement Awards.
The event recognized outstanding engaged scholarship work combined with teaching, research and service in equitable partnerships with external community groups with the goal of creating sustained, positive change.
"The annual awards recognition aims to bring deserved attention to the remarkable individual efforts that embody the endeavors of the Council on Community-Based Partnerships," said Dr. Peter Hlebowitsh, dean of the College of Education and chair of the executive committee of the Council.
"It is simultaneously a celebration and a serious acknowledgment of the innovative and life-reaching work being conducted by and through this body. It is also an opportunity to fête our wonderful partners."
Top Award Recipients 
Outstanding Special Achievement In Community Engagement Award – Peter S. Hlebowitsh was selected for his outstanding campus, community, state and national leadership, and support of community-engaged scholarship as dean of the College of Education and as chair of the executive committee of the Council on Community-Based Partnerships. He was also recognized for his tireless passion for improving the quality of life in communities while supporting valuable research and learning opportunities for faculty, students, staff and community partners.
2021 Zachary David Dodson Memorial Endowed Scholarship – Chris Brewster, a Pinson, Alabama native, received the Dodson Scholarship. A sophomore accounting major, Brewster has worked at the Center for Community-Based Partnerships since his freshman year, helping with both the Global Café initiative and the Vision Days program.
Distinguished Community-Engaged Scholar, Faculty – Dr. Martha R. Crowther, associate dean for research and health policy in the College of Community Health Sciences, was trained as a clinical psychologist and also has a master's of public health with a focus on chronic disease epidemiology from Yale University. Crowther's extensive research portfolio is on aging and racial diversity in urban and rural populations with a focus on the elimination of mental and physical health disparities in older adults and assessing caregiving-related stressors and outcomes.
Distinguished Community-Engaged Scholar, Staff – Dr. Pamela Young is director of community engagement and economic development in the College of Arts and Sciences. She's an education specialist and crisis manager. Her work as a leader for international nonprofit organizations has taken her to 60 countries to work with people of all ages, government leaders, universities, schools and community-based organizations to design and implement socioeconomic development programs.
Distinguished Community-Engaged Scholar, Student – Jake Peterson is a first-year doctoral student in the College of Education's kinesiology department. During his master's study the Newnan, Georgia, native supported the Swim to the Top program as a graduate research assistant. Swim to the Top is a survival swimming program that focuses on swimming skills and water confidence, and includes educational enrichment and physical education elements.
Distinguished Community-Engaged Scholar, Community Partner – LaKeda Smith is the executive director of the Benjamin Barnes YMCA in Tuscaloosa. She earned her bachelor's from The University of Alabama and has spent her career in service to the public through the YMCA, having previously served as the outreach director for the YMCA of Tuscaloosa. She has supported the Center for Community-Based Partnerships' Swim to the Top program for the last seven years and has also formed partnerships with departments across UA's campus in support of the children and youth served by the Barnes YMCA.
Outstanding Community Partner-Initiated Engagement Effort – League of Women Voters of Greater Tuscaloosa, UA STEM Showcase
Outstanding Student-Initiated Engagement Effort – High School STEM Innovation Course, Leave It To Us, Vote Everywhere UA
Outstanding Faculty/Staff-Initiated Engagement Effort – Two Miles on Twelve, SLIS Book Bonanza for the Black Belt (and Beyond), COM 595-003 Political Primaries & Caucuses course
Seed Fund Awards – Dr. Tracey Hodges, assistant professor of elementary education; Haley Townsend, nursing instructor
Graduate Student Fellowship – Phatt Thaitrong, doctoral student; Alexandra Fischer, doctoral student; Gloria Abura, doctoral student; Alexis Brewe, doctoral student
Contact
Jamon Smith, strategic communications, jamon.smith@ua.edu
The University of Alabama, part of The University of Alabama System, is the state's flagship university. UA shapes a better world through its teaching, research and service. With a global reputation for excellence, UA provides an inclusive, forward-thinking environment and nearly 200 degree programs on a beautiful, student-centered campus. A leader in cutting-edge research, UA advances discovery, creative inquiry and knowledge through more than 30 research centers. As the state's largest higher education institution, UA drives economic growth in Alabama and beyond.