Each semester, The University of Alabama provides training for students, faculty and staff on actions to take if there are reports of an armed individual on campus.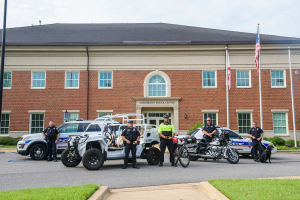 The University Police Department is trained to deal with armed individuals and will respond immediately upon notification.
If you witness someone with a weapon on campus, immediately move to a safe location and call 911 or UAPD at 205-348-5454 as quickly as you can. Stay calm, and provide information about your location, the suspect and any injuries. Stay on the phone until the dispatcher tells you to hang up. Alert others, if you can do so safely. Stay in a safe place until you are notified that the emergency is over.
To learn more about how to protect yourself during an active shooting incident, watch this video, which was produced by UAPD, the Student Government Association and the Center for Public Television.
Student organizations, classes, faculty or staff that would like to participate in "Run, Hide, Fight" training, should contact UAPD Community Relations Officer Daniel Mosley at 205-348-5454 or dmosley@uapd.ua.edu.
To make sure you will always receive information about emergency situations on campus, including severe weather, download the UA Safety app for IOS and Android devices.
Also, remember to always keep your contact information updated in myBama. Instructions on updating your contact information can be found here.
For more information on what to do in case of emergencies on campus, visit 
ready.ua.edu
 and follow UA's Office of Emergency Management on Twitter 
@UA_Safety
.
Safety Reminder: UA Alert System Test
Weather permitting, the University will test its emergency notification systems, including UA Alerts, the public address system and digital signage Wednesday, April 7, at 11:55 a.m.
The University of Alabama, part of The University of Alabama System, is the state's flagship university. UA shapes a better world through its teaching, research and service. With a global reputation for excellence, UA provides an inclusive, forward-thinking environment and nearly 200 degree programs on a beautiful, student-centered campus. A leader in cutting-edge research, UA advances discovery, creative inquiry and knowledge through more than 30 research centers. As the state's largest higher education institution, UA drives economic growth in Alabama and beyond.