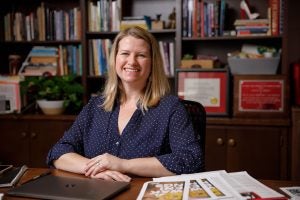 UA professor Sarah Barry has known since middle school that she would spend her life pursuing dance, after a class in the eighth grade led her to fall in love with the art. Since then, she's used that passion to drive her career.
Barry danced professionally for a while but she soon followed her dream of teaching dance to others.
Now the chair of UA's theatre and dance department, Barry has been teaching at UA for more than a decade.
"When I was applying for jobs, I appreciated that the Bachelor of Arts degree at UA embraced an emphasis on dance history, choreography, anatomy, film technology and how all these different areas work together to develop a well-rounded artist scholar," said Barry. "I have been thrilled to be a part of this program for the past 15 years and helping it grow in different ways."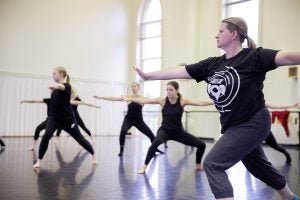 Like many educators, Barry, who is this year's We Are UA giving campaign's faculty ambassador, is in it to give back the knowledge and experiences she's acquired over the years.
"I love all this information, but the best part of it is sharing it with others," Barry said. "Students have a hunger for different kinds of information and an openness to new ideas. They throw themselves in there and try new things, and I really appreciate that about working with them."
Giving back has always been a part of Barry's personal philosophy. Over the years, she's created several projects to support student growth, including a service learning class, where her students go into public primary and secondary schools to teach dance to local students, and a small touring company within the dance program, through which students perform and teach master classes.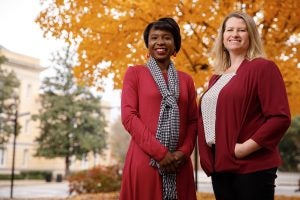 For Barry, the idea of giving back certainly involves sharing ideas and spending extra time with students, but it's also about financially supporting the programs one is passionate about. That's one of the reasons she's excited to be a part of the We Are UA campaign.
"We Are UA is kind of a way to acknowledge how we are all in this together," said Barry, who noted how that statement has been especially fitting over the last year during the pandemic. "All of us contribute in some way to the community here, and we are each a part of that 'we.' As this past year has confirmed, the University is more than just the buildings and physical spaces, it's the people. We can all contribute to the greater picture of what UA is."
To learn more about the We Are UA giving campaign and to support a unique giving opportunity of your choice, visit weareua.ua.edu.
Contact
Melissa Parker, UA communications, melissa.parker@ua.edu
The University of Alabama, part of The University of Alabama System, is the state's flagship university. UA shapes a better world through its teaching, research and service. With a global reputation for excellence, UA provides an inclusive, forward-thinking environment and nearly 200 degree programs on a beautiful, student-centered campus. A leader in cutting-edge research, UA advances discovery, creative inquiry and knowledge through more than 30 research centers. As the state's largest higher education institution, UA drives economic growth in Alabama and beyond.