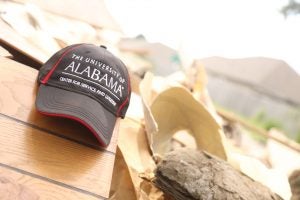 The University of Alabama Center of Service and Leadership is searching for UA students, faculty and staff willing to help tornado relief efforts in Shelby County.
Volunteers will travel to Columbiana in Shelby County on April 10 and April 11 to clear debris, distribute donations, make light home repairs and offer support in any way they can. 20 volunteers are needed for each day. Water, snacks and dinner will be provided for volunteers.
Apply to be a volunteer at BamaPulse. If more than 40 people volunteer, names will be put on a waitlist.
"One thing we're trying to do as a University is maintain long-term sustainable service so it's not just a one-time thing," said Zoe Winston, assistant director for the Center of Service and Leadership. "We'll continue to work with community leaders to provide service to work with the communities as long as there's a need."
For those that want to help but can't travel to Columbiana on April 10 or 11, donations of critical supplies listed below can be dropped off at the Center for Service and Leadership's office in room No. 1100 in the Ferguson Student Center or at the information desk in the Ferguson Center.
Needed items:
Tarps
Trash bags
Cleaning supplies
Hygiene products
Toiletries
Menstrual products
Hand sanitizer
Face masks
Diapers and wipes
Pillows
Socks
Baby formula
Pet food
Gatorade
Bottled water
Laundry detergent
Contact
Jamon Smith, strategic communications, jamon.smith@ua.edu
The University of Alabama, part of The University of Alabama System, is the state's flagship university. UA shapes a better world through its teaching, research and service. With a global reputation for excellence, UA provides an inclusive, forward-thinking environment and nearly 200 degree programs on a beautiful, student-centered campus. A leader in cutting-edge research, UA advances discovery, creative inquiry and knowledge through more than 30 research centers. As the state's largest higher education institution, UA drives economic growth in Alabama and beyond.