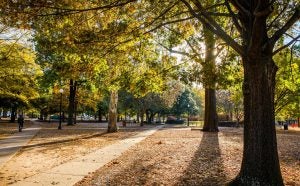 TUSCALOOSA, Ala. – To celebrate Arbor Day and promote sustainability at the Capstone, University of Alabama Campus Development has teamed with Facilities and Grounds to begin the initial steps to create a campus tree farm which will be used to propagate many different native plants including camelias, oaks and magnolias.
The project for propagation of historical and heirloom trees coincides with the team's goals for the campus to become more self-sustainable and play a key role in the green initiative. The team hopes the project will encourage more members of UA's community to get involved with this new service opportunity.
"I am excited about building a tree farm on University property," said Colonel Duane Lamb, associate vice president of UA's Facilities and Grounds Department. "Cultivating the seedlings and cuttings within our own greenhouse will be cost-effective for our institution, as well as help build camaraderie among different department employees who are making our tree farm a reality.
"Throughout history, trees have often been considered sacred and honorable. I feel that way about trees, but especially about the trees on our campus."
The idea for the project was developed in the summer of 2020 when Tim Leopard, senior associate vice president of Campus Development, noticed that magnolia seeds were falling from one of the grand specimen trees on the Bryce Campus. The seeds were then collected from other prominent large magnolias from locations across campus such as the President's Mansion, Bryce Lawn and Gorgas House.
"To begin with, our tree farm will produce trees that are prominent on our campus, such as live oaks, magnolias and ginkgoes that will give us a surplus of replacement trees for our future generations," said Lamb. "The trees from this project will be used to populate and beautify the campus forest and replacement of dead and dying materials. Students and alumni will be able to enjoy the benefits of these trees for many years to come."
Donna McCray, senior director of Facilities and Grounds Operations stated, "Each year, Facilities and Grounds reaches out to various student organizations and solicits help with an annual campus tree project that gives our student population an opportunity to contribute to the health of the overall tree canopy."
"This project is a 'good news' story for the University as trees do so much for all of us. Not only do they produce oxygen, fight soil erosion, and help clean the soil, but they also provide beauty, shade, and lower temperatures, while also helping with storm water control and often act as windbreakers," added Lamb.
UA has made great efforts in working to become more sustainable across campus. Along with UA's Departments of Facilities and Grounds, and Construction Administration, other departments within the University, such as Bama Dining, Energy Management, Recycling and Campus Mail, have all been part of the campuswide sustainability movement.
When working to build and grow the University's landscape and tree population, Leopard has always been inspired by a well-known quote from Nelson Henderson that states, "The true meaning of life is to plant trees under whose shade you do not expect to sit."
Contact
Bryant Welbourne, UA Strategic Communications, bryant.welbourne@ua.edu
The University of Alabama, part of The University of Alabama System, is the state's flagship university. UA shapes a better world through its teaching, research and service. With a global reputation for excellence, UA provides an inclusive, forward-thinking environment and nearly 200 degree programs on a beautiful, student-centered campus. A leader in cutting-edge research, UA advances discovery, creative inquiry and knowledge through more than 30 research centers. As the state's largest higher education institution, UA drives economic growth in Alabama and beyond.