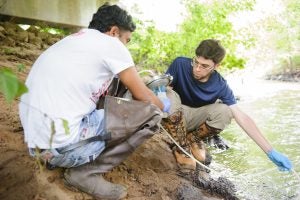 Recently announced federal funding will move forward an ambitious project to demonstrate effective solutions to raw sewage draining into the waterways of the state's Black Belt region.
The Consortium for Alabama Rural Water and Wastewater Management – led by the University of South Alabama in partnership with The University of Alabama, Auburn University and the Alabama Department of Public Health – has been granted the Rural Water Consortium Award by the U.S. Department of Agriculture. The $4.85 million grant will allow the consortium to establish a technical assistance and training program and develop construction-ready plans for innovative rural wastewater treatment solutions in Alabama's Black Belt region.
UA will receive about $1.5 million of the grant to support the research of Dr. Mark Elliott, associate professor in civil, construction and environmental engineering, and his students as part of the larger effort also supported by Columbia World Projects.
This work is the first serious attempt to address the challenge of untreated wastewater in the Black Belt that comes from a perfect storm of impermeable shrink-swell clay soil, low population density, rural poverty and a declining tax base, Elliott said.
"This grant will allow UA, in partnership with the University of South Alabama and Auburn University, to perform a comprehensive assessment of wastewater needs in Black Belt communities, evaluate and test feasible wastewater management options, identify available funding mechanisms, and develop appropriate technical, management and regulatory guidance," he said. "This will show proof of concept of what can be accomplished in these communities in a technically proficient and financially sustainable way so more funding and capital can be secured in the future to address this issue on a larger scale."
The USDA award, which is a Technical Assistance and Training for Innovative Regional Wastewater Treatment Solutions grant, aims to provide alternative wastewater treatment solutions for underserved, low-income communities and works to implement them in a manner that is achievable and sustainable.
At select pilot sites, the project will install and test new clustered and decentralized wastewater treatment systems, connecting neighboring infrastructure in a single system that will collect, treat, and reuse water – effectively reducing maintenance costs. It will also provide a model for transitioning other areas to the improved infrastructure, which could eventually be deployed throughout the state.
The project ultimately strives to supply historically disenfranchised communities, such as the Alabama Black Belt, access to safely treated wastewater.
The Alabama Black Belt is known for its dark, rich soil, which also contains high concentrations of clay soils that cause water drainage issues. As a result, the region has long suffered from ineffective traditional onsite wastewater systems.
The project will include guidance and training for rural communities in the Black Belt region, such as performing county-need assessments, evaluating and testing wastewater treatment options, defining workable funding mechanisms, and developing appropriate technical, management, and regulatory direction.
"The Consortium partners at USA, The University of Alabama, Auburn University and the Alabama Department of Public Health have been working to find appropriate solutions to difficult wastewater issues in the rural Black Belt of Alabama," said Dr. Kevin White, who leads the Consortium and is the chair of the USA Department of Civil, Coastal, and Environmental Engineering. "This award will tremendously further this effort by allowing broader training, community outreach, and innovative wastewater solutions to rural areas that will improve public health, quality of life, and allow for needed economic development in these underserved communities."
Source
Dr. Mark Elliott, assistant professor of civil, construction and environmental engineering, melliott@eng.ua.edu
Contact
Adam Jones, UA communications, 205-348-4328, adam.jones@ua.edu
The University of Alabama, part of The University of Alabama System, is the state's flagship university. UA shapes a better world through its teaching, research and service. With a global reputation for excellence, UA provides an inclusive, forward-thinking environment and nearly 200 degree programs on a beautiful, student-centered campus. A leader in cutting-edge research, UA advances discovery, creative inquiry and knowledge through more than 30 research centers. As the state's largest higher education institution, UA drives economic growth in Alabama and beyond.