The University of Alabama is once again inviting seniors and first-year students to help shape the future of the Capstone by participating in the National Survey of Student Engagement from March 1 to May 15.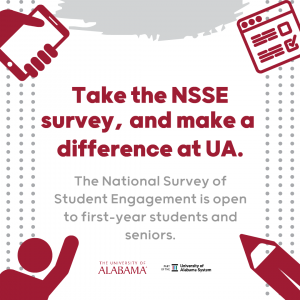 "NSSE is a chance for the University to evaluate itself, especially in terms of our student engagement and success," said Dr. Ginger Bishop, assistant provost and director of the Office of Institutional Effectiveness. "We can't make this a better institution without students' help. We need to know what opportunities they need to be successful, and what they're engaging in now."
The NSSE is a national survey that hundreds of colleges around the U.S. and Canada administer to their students to find out if those who engage in the educational experiences — courses, co-curricular activities, internships, community engagement and undergraduate research — perform better.
"In class and out of class, when students are engaged, they learn more, do better and graduate," said Bishop. "One way we can find out what our students are doing and if we are effective in helping them engage is by asking them to complete the NSSE."
In recent years, UA took data gathered from the 2013 NSSE to create the quality enhancement plan that later became Learning in Action.
And from information obtained in the 2019 NSSE, UA created support programs, such as the Capstone Center for Student Success in Russell Hall, Bishop said.
"We can't make this a better institution without students' help."
"From the 2019 NSSE, our results showed that our students are engaged in a lot of high-impact practices outside the classroom such as service learning, even more so than our peer institutions in the SEC," she said. "But they're less involved in academic support programs like The Writing Center.
"Is that because they're not aware of it, because they don't need it, or is it an issue of us not providing what they need? Questions like that, which stem from NSSE results, are what prompt us to create more support programs. We're hoping when we look at the 2021 NSSE results we'll see an improvement in that area."
Bishop said the results of the 2021 NSSE should also be interesting because the survey is occurring during a global pandemic. Because of that, she said they'll examine the results to see how the pandemic is impacting UA students.
The survey is only open to first-year and senior-level students. To take the survey:
Go to https://nssesurvey.org
Click on "don't know your login ID"
Complete the easy, one-step verification process to log in
Contact
Jamon Smith, strategic communications, jamon.smith@ua.edu
The University of Alabama, part of The University of Alabama System, is the state's flagship university. UA shapes a better world through its teaching, research and service. With a global reputation for excellence, UA provides an inclusive, forward-thinking environment and nearly 200 degree programs on a beautiful, student-centered campus. A leader in cutting-edge research, UA advances discovery, creative inquiry and knowledge through more than 30 research centers. As the state's largest higher education institution, UA drives economic growth in Alabama and beyond.