When you're taking a stroll across campus, it won't take long to notice the addition of some strategically placed outdoor décor that's providing the UA community a place to relax, socialize or study.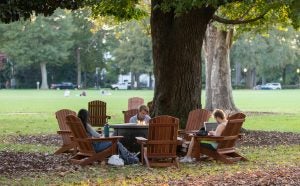 In response to the COVID-19 pandemic, UA senior leadership collaborated with the campus design and planning department to place Adirondack chairs across campus to give students spaces to hang out while complying with health guidelines.
"For the past year, our students have been asked to socially distance, and in some cases quarantine," said Duane Lamb, associate vice president of facilities and grounds. "Because of this, their normal ability to socialize in our college campus environment was greatly diminished.
"In an effort to help resolve this situation and expand our student population's ability to socialize effectively, we decided to place Adirondack chairs on campus, and I recommended that we utilize our cabinet makers and carpenters because they are the best in the business."
The chairs started popping up around campus in November 2020. Each chair is custom-made by UA staff from raw materials and includes the script "A" burned in the back.
"Our team created a sturdier and more cost-effective chair in a very timely manner," said Lamb.  "It would have taken months to have received a similar product of this quality during this time had we ordered them elsewhere."
In addition to the Adirondack chairs, mood lighting, small tables, fire pits and concrete corn hole boards were placed in strategic locations, including the Quad, Ferguson Center lawn and Shelby Quad, among others.
"We selected several suitable locations on campus that would provide accessible, safe places for our students," said Lamb. "The plan was to provide areas for our student population to socialize, interact, communicate, study and grow in a relaxing open-air space."
Fire pits are operational daily from 5 p.m. to midnight and monitored by UA's Environmental Health and Safety Department. Each fire pit includes instructions and a QR code to scan that will send a message to EHS staff to come to that location and light the fire. If additional assistance is needed, you can contact EHS at 205-348-3573.
"EHS monitors the units for safety purposes and turns them off at the end of the evenings," said Lamb. "The UA Plumbing Shop checks the cylinders daily and replaces them with refills as needed."
Feedback from students, faculty, staff and even parents of students has been resoundingly positive.
"We have received countless phone calls from parents wishing to convey their gratitude and appreciation for UA's commitment to the mental health and physical safety of their students by providing these open-air environments for safe socialization," said Lamb.
The chairs and spaces are open to all members of the UA community and don't require reservations.
Contact
Bryant Welbourne, UA Strategic Communications, bryant.welbourne@ua.edu
The University of Alabama, part of The University of Alabama System, is the state's flagship university. UA shapes a better world through its teaching, research and service. With a global reputation for excellence, UA provides an inclusive, forward-thinking environment and nearly 200 degree programs on a beautiful, student-centered campus. A leader in cutting-edge research, UA advances discovery, creative inquiry and knowledge through more than 30 research centers. As the state's largest higher education institution, UA drives economic growth in Alabama and beyond.