The Hired in Alabama series starting April 1 will highlight cities throughout the state and give students a taste of what it's like to live and work as a young professional in the Yellow Hammer State.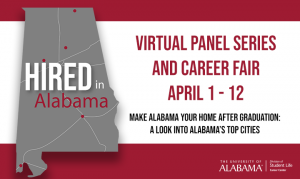 Participants will hear first hand from a panel of young UA alumni, members of the local chambers of commerce, tourism representatives and mayors from each city. Each panel will include a Q&A session and an optional Adulting 101 panel that will cover tips and tricks for relocating to each city.
The panel schedule is below. Each event will be virtual and take place from 6 p.m. to 7:30 p.m.
April 1 – Tuscaloosa
April 5 – Huntsville
April 6 – Birmingham
April 7 – Montgomery
April 8 – Mobile
The series will cap off with a virtual career fair April 12 featuring employers from around the state that are hiring full-time or internship positions.
Hired in Alabama is a collaboration between the UA Career Center, UA's Office for Economic and Business Engagement and the Alabama Commission of Higher Education. The commission's Retain Alabama initiative aims to keep students in Alabama after they graduate from colleges or universities in the state.
For more information on Hired in Alabama and how to register for the career fair, visit the UA Career Center website.
Contact
Bryant Welbourne, UA Strategic Communications, bryant.welbourne@ua.edu
The University of Alabama, part of The University of Alabama System, is the state's flagship university. UA shapes a better world through its teaching, research and service. With a global reputation for excellence, UA provides an inclusive, forward-thinking environment and nearly 200 degree programs on a beautiful, student-centered campus. A leader in cutting-edge research, UA advances discovery, creative inquiry and knowledge through more than 30 research centers. As the state's largest higher education institution, UA drives economic growth in Alabama and beyond.