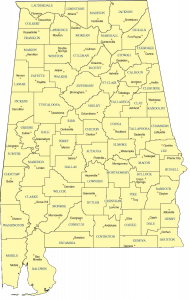 Alabama is no stranger to severe weather. In fact, it can happen any month of the year and any time, day or night. To help you prepare, The University of Alabama is offering information on severe weather and safety tips during Severe Weather Awareness Week, Feb. 22 – 26.
One of the most important things you can do to prepare for severe weather is to know where you live. No matter how prepared you are, your severe weather plan will never be complete until you can pinpoint your location on a map.
About 45% of Alabamians have trouble locating their home on a map during a severe weather event, according to research done by Dr. Laura Myers, director of UA's Center for Advanced Public Safety.
"People want to know if the weather will impact them at their location," Myers said. "The fastest and most accurate way to get that location information for yourself is to know where you are on a map and where you are in relation to the counties and towns around you. Practicing this in advance of a weather event will give you the skills you need to take the best action when the time comes."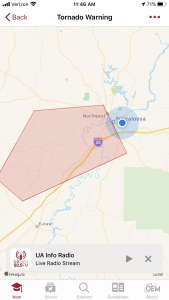 The University of Alabama is located in the city of Tuscaloosa in Tuscaloosa County in western Alabama. Tuscaloosa County is bordered by Pickens County to the west, Greene County to the southwest, Hale County to the south, Bibb County to the southeast, Jefferson County to the east, and Fayette and Walker Counties to the north. Normally, severe storms move from Mississippi across Sumter, Greene and Pickens counties before impacting Tuscaloosa County.
Tuscaloosa County is one of the largest counties in Alabama. Since severe storms, like tornadoes, normally only affect a small area, it's important to know where the city of Tuscaloosa is located inside the county. While the National Weather Service may issue a Tornado Warning for parts of Tuscaloosa County, the warning may not always include the city or the campus.
One of the best ways to know your location during severe weather is by using the UA Safety app. When severe weather alerts are issued for Tuscaloosa County, the app will display the alert showing the affected area of the county. If you have location services for the app turned on you will see your location in relation to the affected area.
The safety app is available for download on iOS and Android devices.
Get more information on staying safe during severe weather by visiting the Office of Emergency Management's website and by listening to 92.5 FM UA Info Radio.
Learn more about the importance of knowing your location on a map
Contact
Shane Dorrill, UA communications, shane.dorrill@ua.edu
The University of Alabama, part of The University of Alabama System, is the state's flagship university. UA shapes a better world through its teaching, research and service. With a global reputation for excellence, UA provides an inclusive, forward-thinking environment and nearly 200 degree programs on a beautiful, student-centered campus. A leader in cutting-edge research, UA advances discovery, creative inquiry and knowledge through more than 30 research centers. As the state's largest higher education institution, UA drives economic growth in Alabama and beyond.