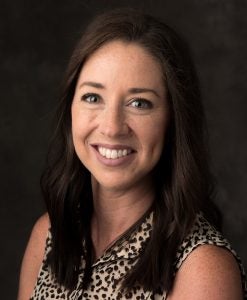 TUSCALOOSA, Ala. – University Medical Center will open a location in Fayette, Alabama, Feb. 5 that will provide prenatal care services to expectant mothers in a county that has a high infant mortality rate.
UMC-Fayette will be open from 8:30 a.m. to noon on Fridays. Dr. Cheree Melton, a family medicine-obstetrician at UMC in Tuscaloosa, will care for patients at the Fayette location.
UMC is operated by The University of Alabama College of Community Health Sciences. In addition to Fayette and Tuscaloosa, UMC has locations in Northport and Demopolis.
"We are very happy to offer prenatal services to expectant mothers in the Fayette area," said Dr. Jane Weida, chair of CCHS' Department of Family, Internal and Rural Medicine, who is overseeing the Fayette location. "Prenatal care is vitally important to improve the health of mothers and their babies, which then helps prevent low birth weight and other health complications."
Babies of mothers who don't get prenatal care are three times more likely to have a low birth weight and five times more likely to die than those born to mothers who do get care, according to the March of Dimes.
Pre-term and low birth weight babies are leading causes of infant mortality in Alabama. The state's infant mortality rate in 2019 was 7.7 infant deaths per 1,000 live births, higher than the national average of 5.7 infant deaths per 1,000 live births. The infant mortality rate for Fayette County, where the city of Fayette is located, was nearly twice the national average, with 10.2 infant deaths per 1,000 live births in 2019.
"The health of a mother and the health of her infant are interwoven," Dr. Scott Harris, Alabama's state health officer, wrote in the recently released Alabama Perinatal Report. "Alabama, like the nation, continues to face an urgent maternal and infant health crisis. It is essential that we address the factors that contribute to both maternal and infant poor health outcomes."
According to the report, 10.5% of births in Alabama in 2019 were low-birth weight. Lack of prenatal care and inadequate prenatal care are associated with higher risk of low birth weight. Babies born with low birth weight may be more likely than babies born at a normal weight to have certain health conditions later in life, including diabetes, heart disease and high blood pressure.
In Alabama in 2019, only 73.3% of births had adequate prenatal care, and 2.5% of births had no prenatal care, according to the Alabama Perinatal Report.
New patients are welcome at UMC-Fayette. To get established as a patient, contact Zoie Merchant, RN, a care coordinator at My Care Alabama, at (205) 709-7581 and zoie.merchant@mycarealabama.org.
UMC-Fayette is located at 1716 Temple Avenue North, Suite 5. For more information, visit umc.ua.edu or call (205) 348-6700.
Contact
Bryant Welbourne, UA Strategic Communications, bryant.welbourne@ua.edu
The University of Alabama, part of The University of Alabama System, is the state's flagship university. UA shapes a better world through its teaching, research and service. With a global reputation for excellence, UA provides an inclusive, forward-thinking environment and nearly 200 degree programs on a beautiful, student-centered campus. A leader in cutting-edge research, UA advances discovery, creative inquiry and knowledge through more than 30 research centers. As the state's largest higher education institution, UA drives economic growth in Alabama and beyond.