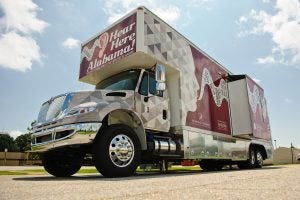 TUSCALOOSA, Ala. – A more than $2 million grant will accelerate The University of Alabama's work to improve the lives of people with hearing loss living in rural areas of the state.
Dr. Marcia Hay-McCutcheon, professor of communicative disorders and an Alabama Life Research Institute Fellow, will lead the $2.18 million grant from the National Institutes of Health that addresses accessibility and affordability of hearing healthcare in rural communities. The 5-year grant will help to mitigate the negative effects of hearing loss for those living in underserved communities in five rural counties.
The research will determine the standard of care for using over-the-counter hearing aids in rural areas where audiology resources are limited. Although over-the-counter devices are not yet approved by the federal government to treat hearing loss, the hearing aids are available in most stores, offering a cheaper alternative to prescribed aids fitted to a person in a clinical setting.
"We hope to demonstrate that over-the-counter hearing aids could be a viable option for people with hearing loss who have no other options," Hay-McCutcheon said. "They may not be the gold standard in hearing aids, but for many people in rural areas with hearing loss, something is better than having nothing at all."
Hearing loss is a growing public health concern because it is associated with social isolation, depression and cognitive decline. Hay-McCutcheon's research found that rural Alabama communities have minimal access to hearing healthcare resources, which worsens the negative effects of hearing loss.
"Research so far has shown that people living in rural communities tend to report poorer quality of life and social support," she said.
To bring hearing healthcare to underserved communities, the UA College of Arts and Sciences funded the Hear Here Alabama mobile audiology clinic, a truck with equipment and instruments needed to bring hearing evaluations and screenings to people in rural areas. Since the mobile clinic started in 2015, Hay-McCutcheon and staff and students working with her have screened and evaluated several thousand people.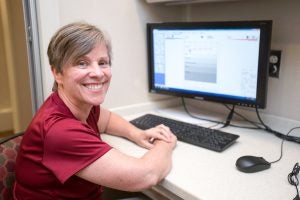 This new grant, though, will offer more than screening, evaluation and education, ultimately providing hearing aids to 300 people in Marengo, Sumter, Dallas, Wilcox and Perry counties.
"All of our work so far has laid the foundation for this project," Hay-McCutcheon said.
The randomized clinical trial will separate participants into three groups. The first group will receive the over-the-counter hearing aids fitted and adjusted by audiologists along with up to five weeks of education and assistance by trained community hearing healthcare workers. The second group will receive the aids and be professionally fit, while the third group will receive the aids without professional assistance in getting started, leaving the person to figure out the device through the manufacturer's instructions.
Although over-the-counter hearing aids can be substantially cheaper than aids prescribed by doctors, which are not covered by health insurance, instructions for the more effective over-the-counter devices often involve fitting and adjusting through a smartphone app. That process can be intimidating, she said.
"This project is trying to find what is the most effective, yet efficient care we can provide to help those with hearing loss," Hay-McCutcheon said.
The grant will provide for the community workers along with clinical staff for the Hear Here truck and graduate and undergraduate student researchers, who will perform critical tasks throughout the grant.
The first two years of the grant, which started in January, will be spent working with partners in the counties to determine the best way to administer the research, while the last three years will be spent recruiting and working with 100 participants each year.
The Hear Here Alabama project continues to receive support from the College of Arts & Sciences as well as support from the Center for Economic Development in the Office of Research and Economic Development. The 2019 Bama Blitz fundraising drive helped provide seed money for the preliminary data needed to secure the NIH grant.
Contact
Adam Jones, UA communications, 205-348-4328, adam.jones@ua.edu
The University of Alabama, part of The University of Alabama System, is the state's flagship university. UA shapes a better world through its teaching, research and service. With a global reputation for excellence, UA provides an inclusive, forward-thinking environment and nearly 200 degree programs on a beautiful, student-centered campus. A leader in cutting-edge research, UA advances discovery, creative inquiry and knowledge through more than 30 research centers. As the state's largest higher education institution, UA drives economic growth in Alabama and beyond.