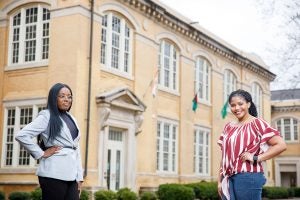 There are countless ways to make a college experience memorable. But for two sophomores at The University of Alabama, they expect their most life-changing moment will come this fall, as they travel across the world to study abroad.
Mariah Muhammad and Bailee Hughes are recipients of this year's Gilman International Scholarship, a program designed to increase access to study abroad opportunities for students with financial constraints who might not have otherwise participated.
As transfer students, they both came to UA for the greater opportunities it offered them, like education abroad. Even though the classmates have some things in common, they will embark on two different journeys this fall, in different countries, on different continents.
Muhammad, a Hoover, Alabama, native, is preparing to study in South Korea for the year. An international studies major and Korean minor, she believes her experiences there will be defining for her future.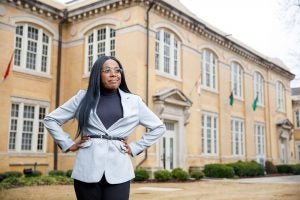 "Being a global citizen is a life-long journey," said Muhammad, who is a member of UA's Model UN team and hopes to one day work for the United Nations. "Studying abroad is more than just going to another country. It's about being open to new experiences and seeing the world from a different and global perspective."
Muhammad plans to spend her time abroad learning more about the Korean culture and language.
"I hope to better connect with the locals by studying their language so that I can make a greater impact while I'm there," said Muhammad, who also received Gilman's Critical Need Language Award, which offers additional scholarship funds to students studying critical languages while abroad.
Thousands of miles away, Hughes will travel to the United Kingdom, where she plans to further explore two things she's passionate about — mental health and true crime. The Lexington, Kentucky, native hopes the experience will give her a competitive edge in the future.
"One goal of mine is to be an FBI agent," said Hughes, a psychology major, minoring in women's studies and African American studies, who plans to eventually pursue a doctorate in forensic psychology. "But my ultimate career aspiration is to open a criminal justice nonprofit, where we'd assist in criminal cases, and educate and advocate for mental health, criminal justice reform and minorities. I'm confident the experience abroad will give me knowledge and understanding in this field."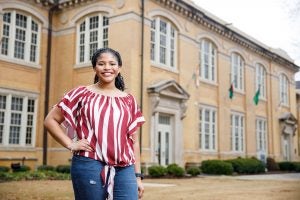 Hughes, who is involved in a number of organizations at UA, including Women of Excellence and the Women and Gender Resource Center, is also passionate about educating and advocating on behalf of animals and homelessness, which she plans to incorporate into her future endeavors.
Both Muhammad and Hughes have concerns about studying abroad during a pandemic, including a potential cancellation, but they're preparing to make the most of whatever situation they're given.
"I believe everything happens for a reason," said Hughes, who plans to apply for the scholarship again next year if the trip is canceled.
Added Muhammad, who has firsthand experience after receiving the scholarship last year and having her trip canceled due to COVID-19, "It's definitely a good lesson in adapting to unexpected circumstances. Always make a plan B, just in case plan A doesn't work out."
Contact
Melissa Parker, UA communications, melissa.parker@ua.edu
The University of Alabama, part of The University of Alabama System, is the state's flagship university. UA shapes a better world through its teaching, research and service. With a global reputation for excellence, UA provides an inclusive, forward-thinking environment and nearly 200 degree programs on a beautiful, student-centered campus. A leader in cutting-edge research, UA advances discovery, creative inquiry and knowledge through more than 30 research centers. As the state's largest higher education institution, UA drives economic growth in Alabama and beyond.