UA's enrollment initiatives continue to roll along during the COVID-19 pandemic thanks to innovative efforts.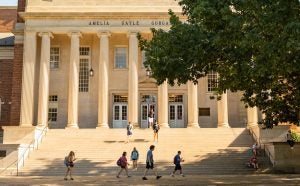 While in-person events and traditional practices were put on hold, Enrollment Management got creative to weather the storm.
"COVID-19 forced us to make several key adaptations including moving recruitment to the virtual space, strong efforts from our staff, engaging in our test optional pilot program and increases in outbound marketing," said Dr. Matthew McLendon, associate vice president and executive director of enrollment management. "So far our results look promising. Our application and admit volumes are on par with last year, which puts us in a good place for yielding the class this spring."
UA saw an increase in the number of in-state undergraduate students in fall 2020. Highlights of the 2020 freshman class include 42.3% with a 4.0 GPA in high school, 39.9% scoring 30 or higher on the ACT and an average high school GPA of 3.83.
In an effort to continue attracting students from all over the world, McLendon developed a staffing plan last year that called for the creation of an assistant vice president role to enhance the group's leadership team. Dr. Amy Hutton, former director of enrollment research and evaluation at Virginia Commonwealth University, recently joined the team and will play a key role in Enrollment Management.
"Our application and admit volumes are on par with last year, which puts us in a good place for yielding the class this spring."
"The assistant vice president role was created to bring our admission functions under one leader and to assist me in managing the complex day-to-day operations, as well as bring a fresh perspective to our outreach efforts," said McLendon. "Having Dr. Hutton here will allow for a more centralized leadership structure and more time for strategic planning."
McLendon remains optimistic in his group's efforts to continue to attract the best and brightest to the Capstone.
"Over the next several months, it will be critical for the campus to engage with prospective students in a similar fashion as we did last year," said McLendon. "Personal outreach does make a difference and it is something our community does very well. I feel confident in our team's ability to bring in a good class this year despite some of the continued challenges."
The University of Alabama, part of The University of Alabama System, is the state's flagship university. UA shapes a better world through its teaching, research and service. With a global reputation for excellence, UA provides an inclusive, forward-thinking environment and nearly 200 degree programs on a beautiful, student-centered campus. A leader in cutting-edge research, UA advances discovery, creative inquiry and knowledge through more than 30 research centers. As the state's largest higher education institution, UA drives economic growth in Alabama and beyond.