Student mail will move from Google to Microsoft O365 in May.
OIT is moving student Crimson email from Google to Microsoft to enhance cybersecurity, to provide one cohesive directory, to increase collaboration with tools like Microsoft Teams, and to better prepare UA students for the workforce.
"We are confident that this transition is the best path forward for our students, staff and faculty," said Demarcus Joiner, president of The University of Alabama Student Government Association. "Between Microsoft's enhanced security measures, ease of access and transferability to industry, I believe this is a worthwhile change."
Only Crimson email will be migrated. Any content students have stored in their Google Calendar, Drive or Hangouts will not be migrated. After mail is migrated, students will continue to have access to G Suite to reach this content.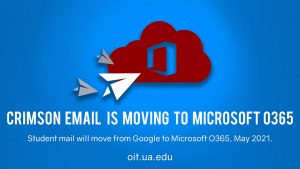 "SGA and OIT are partnering together this semester to ensure students are aware of the transition and equipped with tools to understand the new Microsoft environment," Joiner said.
With student email in the Microsoft O365 cloud environment, OIT will be able to apply the same level of cybersecurity measures to student accounts that are currently applied to UA faculty and staff email accounts.
"One key reason for moving student mail to Microsoft is to enhance the security around a student's inbox," said Ashley Ewing, UA chief information security officer. "We will be able to use the robust tools provided by Microsoft to block more phishing emails from reaching student mailboxes."
Another perk of moving student mail to Microsoft is that it will provide a cohesive directory for UA faculty and staff.
"In our current Google-based systems, students oftentimes have to search two or three different websites to find contact information for a faculty or staff member," said Will Bradley, SGA's director of communications. "The new, cohesive directory will allow students greater ability to communicate with members of the campus community."
Migrating student mail to Microsoft will allow students the opportunity to use O365 apps with full functionality. With student mail in the Microsoft environment, students can collaborate with classmates, teammates and faculty through Microsoft Teams. Microsoft Teams is a collaboration space that includes threaded chats, file sharing and video conferencing.
"Microsoft Teams provides all the elements students need – within one app. You can quickly send a chat, share a file and set a meeting, all while in a video meeting," said Meagan Bennett, OIT director of customer relations. "Microsoft Teams can do all the things that Zoom, GroupMe, Google Drive do, but within one app."
OIT is performing behind the scenes work through the spring semester to prepare the migration to occur in May.
"We want this migration to cause as least disruption as possible for students," said Bennett. "From a student perspective, one day you will access your mail at gmail.com, the next you'll access it at office.com."
After the migration, students can access mail on the web, or in desktop and mobile apps. Additional information about the migration is available on the OIT website. OIT will be sending direct communication to students with reminders and instructions on how to access email after the migration.
The University of Alabama, part of The University of Alabama System, is the state's flagship university. UA shapes a better world through its teaching, research and service. With a global reputation for excellence, UA provides an inclusive, forward-thinking environment and nearly 200 degree programs on a beautiful, student-centered campus. A leader in cutting-edge research, UA advances discovery, creative inquiry and knowledge through more than 30 research centers. As the state's largest higher education institution, UA drives economic growth in Alabama and beyond.