In honor of Black History Month, The University of Alabama proudly celebrates the Black students, alumni, faculty and staff who have shaped UA's history and legacy through their contributions and accomplishments.
Meet UA's pioneering faculty and staff who broke through barriers, leaving a lasting legacy to impact their colleagues and students for years to come.
In 1970, Dr. Lena Prewitt became the first African American female professor to be appointed at The University of Alabama. Before making her mark at the Capstone, Prewitt received a fellowship to work with rocket scientist Werner von Braun at NASA in Huntsville. Prewitt served as the only African American on the team working on Saturn V. In addition to teaching in what is now known as the Culverhouse College of Business, Prewitt also held teaching and administrative positions at Stillman College, her alma mater. In addition to these roles, she has been a noted speaker on manufacturing, education, equal rights and international relations, and has served on advisory commissions in various countries.
Bryan K. Fair is The University of Alabama's Thomas E. Skinner Professor of Law, and he is the first African American member of the faculty to teach for at least 25 years. He joined the faculty of the School of Law in 1991. From 1994 to 1996, he served as assistant academic vice president for the University. In his time as a professor, Fair has served as director of diversity, director of international programs, associate dean for special programs, and faculty adviser to numerous student organizations and coach of moot court teams.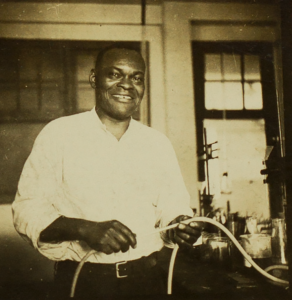 Sam S. May served as a custodian in UA's chemistry department from 1911 until 1941. During his lunch hours, May would learn the subject matter from instructors. With the knowledge he acquired, May would go on to tutor students and help with research projects. May was presented an award for his service to students and faculty, and in 2000, the University named a service award in his honor. The Sam S. May Commitment to Service Award recognizes teams or departments demonstrating exceptional commitment, innovation or creativity in customer service.
Earnestine Tucker is a nurse practitioner and a former employee in the College of Community Health Sciences. Tucker served as president of the Black Faculty and Staff Association for more than seven years and was a leader in solidifying BFSA's involvement with Black students at UA. Tucker is a UA alumna who also served on the Tuscaloosa City Board of Education.
In 2004, Dr. Samory Pruitt became the first African American to be named a permanent vice president at The University of Alabama when he was named vice president for Community Affairs. Pruitt is responsible for developing and managing the University's public outreach programs and providing leadership to enhance the quality of life both within and beyond the campus community. A former president of the Black Faculty and Staff Association, Pruitt earned his bachelor's in mathematics, his master's in public administration and his doctorate in higher education administration, all from UA.
Discover more stories, events and resources for UA's Black History Month 2021 celebration.
The University of Alabama, part of The University of Alabama System, is the state's flagship university. UA shapes a better world through its teaching, research and service. With a global reputation for excellence, UA provides an inclusive, forward-thinking environment and nearly 200 degree programs on a beautiful, student-centered campus. A leader in cutting-edge research, UA advances discovery, creative inquiry and knowledge through more than 30 research centers. As the state's largest higher education institution, UA drives economic growth in Alabama and beyond.