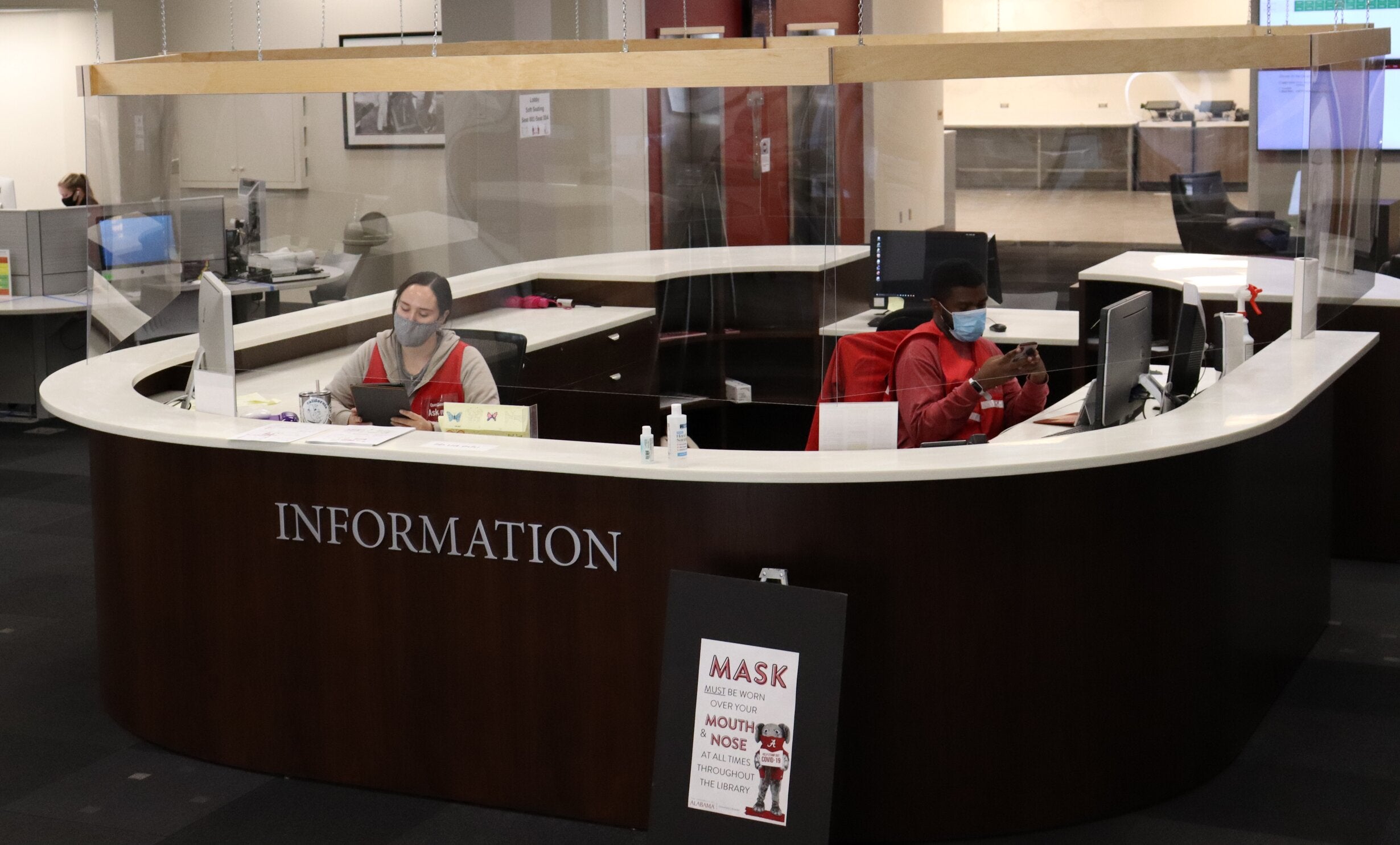 The University of Alabama SGA has partnered with University Libraries to extend library hours at Gorgas and Rodgers to midnight during finals so students can study late for final exams.
Michael Pearce, director of strategic engagement for UA Libraries, said an SGA officer contacted the Libraries after Thanksgiving requesting their hours be extended beyond 10 p.m. for finals week Dec. 7-10. But because most of their student workers had already gone home for the semester, it wasn't a request that they had the manpower to fulfill.
"So SGA volunteered to fill in for us during those shifts from 8 p.m. to midnight for finals week," Pearce said. "We had training for them this past week and next week they'll go full force.
"They'll assist with making sure people know they have to wear a mask when they come in, checking them in for their reservation and pointing them in the right direction of where they need to go for their space reservation. They also received basic training on how to locate books and answer questions."
Demarcus Joiner, president of UA's SGA, said they volunteered to work late shifts because they wanted the students who remained on campus after Nov. 20 to have somewhere to study at besides their rooms.
"I had a conversation with President Stuart Bell about students who would still be here after the break and being tired of being in their rooms until finals," Joiner said. "We discussed extending the Libraries hours and the SGA students said they would help. We approached the Libraries and they agreed.
"This affords us the opportunity to go to the library later in the night, which is when many students study. This holds to our motto at the SGA of 'students serving students.' I believe this will help students be prepared for their finals better."
Source
Michael Pearce, director of strategic engagement for UA Libraries, pearc007@ua.edu
Contact
Jamon Smith, Strategic Communications, jamon.smith@ua.edu, 205-348-4956
The University of Alabama, part of The University of Alabama System, is the state's flagship university. UA shapes a better world through its teaching, research and service. With a global reputation for excellence, UA provides an inclusive, forward-thinking environment and nearly 200 degree programs on a beautiful, student-centered campus. A leader in cutting-edge research, UA advances discovery, creative inquiry and knowledge through more than 30 research centers. As the state's largest higher education institution, UA drives economic growth in Alabama and beyond.