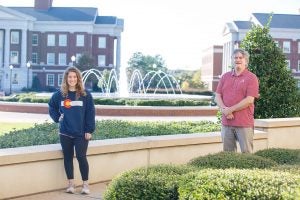 By Melissa Parker
In 2011, during the University of Alabama's first-ever robotics competition, third grader Mary Virginia McKinley and her team proudly accepted an award at the contest.
Fast forward nine years, and McKinley is now a freshman at UA.
"It's pretty crazy because when I came to that competition in elementary school, I never thought I'd end up coming here to college," said McKinley, a computer science major.
Although McKinley grew up just an hour away in Hoover, she didn't originally plan to attend UA. But once she visited campus last fall, her plans quickly changed.
"I applied for five schools," she said. "When I toured UA, it was by far the best tour. UA had so many resources in the engineering department. I just thought it was a really cool campus and program, and I loved it here, so I chose UA."
McKinley's early interest in computer science was inspired by her family, many of whom are in the field, including her UA alumnus mom, a technology coach with Alabama public schools.
"My two older brothers were involved in STEM at a young age, so I was always around it and became interested in it because of them," said McKinley, who was part of her brother's team at the inaugural Alabama Robotics Competition at UA in 2011. "I would go to their STEM events and sometimes join in. I really look up to my brothers, and they're one of the reasons I'm going into this field."
Another person who played a role in her decision to study computer science at UA is Dr. Jeff Gray, professor of computer science, who has a way of getting everyone excited about computer science, according to McKinley's mom.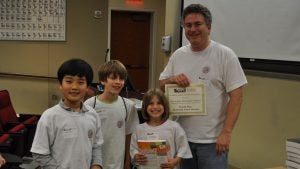 "K-12 outreach activities help the UA campus community to establish relationships with students early in their formative years of education, and it often continues through their college experience," said Gray.
Gray founded the Alabama Robotics Competition at UA in 2011, in part to support students just like McKinley.
"Mary Virginia and I met several years ago at our first robotics contest, which is now in its 10th season. We continued to chat at cross country events and other occasions over the past decade. Knowing that she is now at UA and studying computer science in my department has helped me realize the importance of planting seeds of influence for young students at an early age, especially females."
An Honors College student, McKinley is attending UA on presidential, engineering and alumni scholarships. During her time at UA, she plans to be involved with the Society of Women Engineers and other STEM academic groups.
And for a little fun, she joined the UA ultimate frisbee team, a sport she enjoyed playing in high school.
McKinley wants to eventually follow in her family's footsteps and work in computer science, particularly by becoming a teacher in the STEM field.