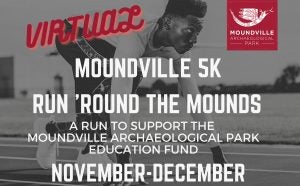 TUSCALOOSA, Ala. – The University of Alabama's Moundville Archaeological Park will hold its annual 5K Footrace virtually throughout November, which is Native American Heritage Month, and December to support its education fund.
Instead of the traditional "Run 'Round the Mounds," held annually at the park, the public can register to run a 5K on a course of their choice or treadmill and will be awarded with a commemorative finisher medal and downloadable finisher certificate.
"We created the virtual race with our park patrons and Moundville residents in mind," said Lindsey Gordon, education outreach coordinator at Moundville Archaeological Park. "Many are still coming to the park to work out in a safe environment, and they are helping us keep this event safe for others that may visit."
Participants will receive a downloadable race bib and finisher certificate; commemorative finisher medal; and free admission pass to Moundville Archaeological Park. They can also listen to a curated playlist of traditional and modern Native American music on Apple Music, YouTube and Spotify while completing the 5K.
"By choosing to do a virtual race rather than the traditional run, participants have the ability to pound the concrete with the assurance that they're supporting the park in an environment that is comfortable," said Gordon. "They'll also have the satisfaction of knowing they're supporting our educational efforts while getting excellent exercise with absolutely no pressure to go superfast. Participants can walk the entire 'race' if they desire because they're truly the only competitor that matters."
Registration is $25 and all proceeds benefit the park's education fund. More information and online registration can be found on Moundville Archaeological Park's website.