Joined by Big Al, campaign co-chair Dr. Adam Brooks announced progress on the 2020 United Way campaign from the WVUA studios in a video posted on the College of Communication and Information Sciences' Facebook page.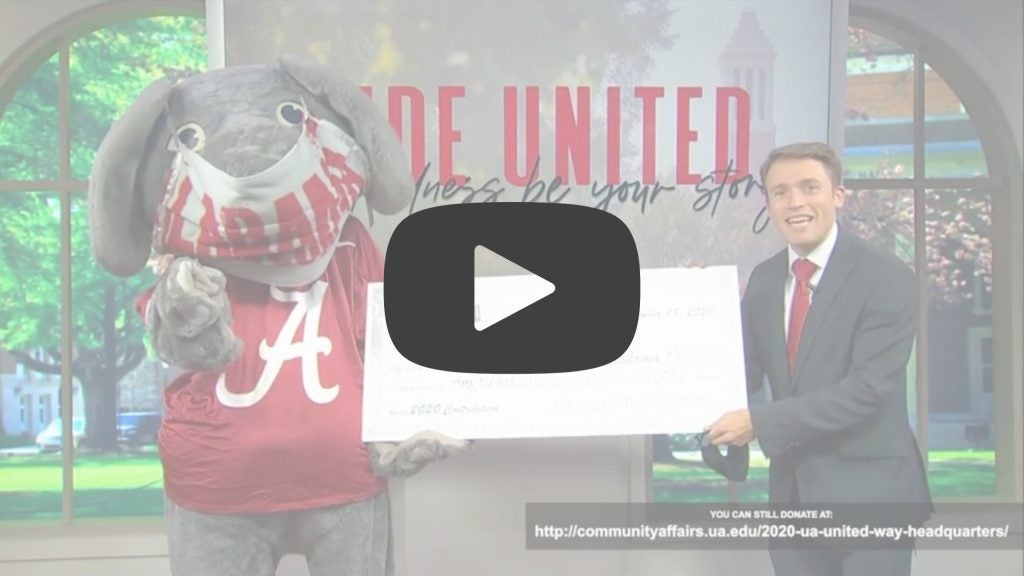 UA's 2020 campaign to support the United Way of West Alabama is well on the way to meeting its $400,000 goal with $360,045.41, or 90%, raised as of Nov. 19.
Joining the virtual celebration were Dr. Mark Nelson, dean of this year's host college, the College of Communication and Information Sciences, as well as Campaign Champion Dr. Nicole Prewitt, UA President Stuart R. Bell, Campaign Treasurer Caroline Railsback, 2020 UWWA Campaign Chair Shelley Jones and Jackie Wuska, chief executive officer of UWWA. 
"Thank you so much to those of you who have paid your blessings forward by making a gift to the United Way of West Alabama," said Wuska. "The need for our partner agencies' services has never been greater, and we could not come close to making an impact in the community without the support of The University of Alabama. During this challenging time, we are grateful that you have faith in us to allow us to make a difference." 
The campaign will continue through the end of the semester, and donations can be made through a secure, online giving portal. Those who prefer to give via pledge card should contact Elizabeth Hartley at ehartley@ua.edu. Donations of at least $60 will qualify for a donor rewards card containing offers from 34 West Alabama businesses.
Contact
Diane Kennedy-Jackson