Although in-person classes have come to an end, UA Libraries is continuing its services for students and faculty and adding a new appointment option for students through the end of the fall semester.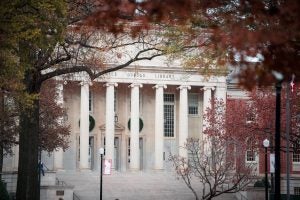 Locations will remain open, with the exception of Nov. 26-28 for the Thanksgiving holiday, through Dec. 18. Hours will vary among locations. A calendar of dates and hours of operation by location, which is subject to be adjusted in the coming weeks, can be found on the UA Libraries website.
Students will still be able to contact a librarian by chat or email via Ask A Librarian.
UA Libraries is also offering a new service that allows students to schedule Zoom meetings with librarians for assistance on assignments. Students can select a librarian to speak to and make an appointment based on the librarian's availability. The pilot program includes Humanities librarians but more areas will be added in the future. Appointments can be made on the UA Libraries appointment reservation page.
Grab-N-Go book ordering and curbside pick-up will still be available on a limited basis while the libraries are on the University's extended holiday break. Grab-N-Go will be available at the Capstone entrance of Gorgas Library from 1 p.m. to 4 p.m. on the dates listed below.
Dec. 21-23
Dec. 28-30
Jan. 4-6
The University of Alabama, the state's oldest and largest public institution of higher education, is a student-centered research university that draws the best and brightest to an academic community committed to providing a premier undergraduate and graduate education. UA is dedicated to achieving excellence in scholarship, collaboration and intellectual engagement; providing public outreach and service to the state of Alabama and the nation; and nurturing a campus environment that fosters collegiality, respect and inclusivity.