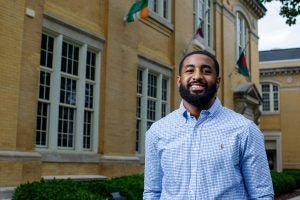 At just nineteen years old, Zachary Collins has already experienced some extraordinary opportunities in his life. Born in Cairo, Egypt, the UA sophomore spent much of his childhood in a melting pot of cultures, learning to appreciate the uniqueness of the people around him.
"I was surrounded by a ton of beliefs, ethnicities and learning styles, and that enriched me as a person," said the Montgomery native, whose parents were teachers at Cairo American College. "I was able to learn from so many different kinds of people, and I learned to value the things that were different in them and in myself."
His family moved back to Alabama when he was young, but they kept the Egyptian culture alive in their home, celebrating the customs and traditions. They maintained close relationships made while living in Cairo, particularly one to an Egyptian friend who happens to be Collins' namesake and godfather.
Collins' deep connection to Egypt helped shape the person he is today. Because of his upbringing, he decided to further explore the language and culture of his birthplace in college.
"My background and where I grew up made me want to be as fluent as possible in the Arabic language and get to know and understand the culture even more," said Collins, who plans to spend a year studying abroad in an Arabic-speaking country. "One of the main reasons I chose to attend UA was because of the opportunities offered through the Arabic program."
Being at UA has allowed Collins to put into play other things he's passionate about, as well, like helping others.
"My dad always says the scripture, 'to whom much is given, much is required,'" Collins said. "I've been blessed in my life to see so many things and have so many opportunities because of my parents. And they taught me to always do my part to put someone else in a position to be successful, too. I believe you should do what you can to leave things better than when you found them."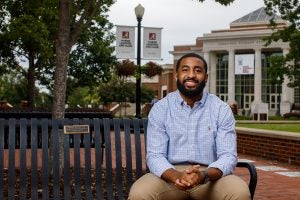 When he's not in class, Collins spends much of his time working with First Year Experience's Navigators program, where he serves as a navigator to help new students find their way around campus.
He's also a leader and mentor with UA's BRIDGE Builders program, which provides first-year men of color the opportunity to build a community at the University, as well as create a vision and action plan for their legacy at UA.
Collins, a finance major and member of the Culverhouse Investment Management Group, hopes to eventually run a real estate investment business. He got a head start on that goal last summer, when he started a company with his dad called Green Door Investment, which uses the strategy of real estate wholesaling to flip houses.
But before fully committing to that long-term plan, upon graduation from UA Collins hopes to put his fluency in the Arabic language and culture to work by joining a company that has a global outlook on business and ties to the Arabic-speaking countries of the Middle East.
The University of Alabama, part of The University of Alabama System, is the state's flagship university. UA shapes a better world through its teaching, research and service. With a global reputation for excellence, UA provides an inclusive, forward-thinking environment and nearly 200 degree programs on a beautiful, student-centered campus. A leader in cutting-edge research, UA advances discovery, creative inquiry and knowledge through more than 30 research centers. As the state's largest higher education institution, UA drives economic growth in Alabama and beyond.