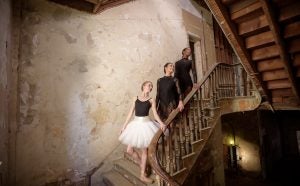 TUSCALOOSA, Ala. – Thanks to the incredible generosity of its donors, The University of Alabama saw the highest fundraising year to-date during fiscal 2019–20, which included charitable gifts and pledges in excess of $222 million from nearly 60,000 donors.
The record fundraising mark represents an increase of more than $19 million from the previous fiscal year. It is the third consecutive fiscal year averaging gifts and pledges in excess of $200 million.
"Our donors and alumni have demonstrated their unwavering support and dedication to our University this year," said UA President Stuart R. Bell. "With their ongoing generosity, we continue to advance and expand the educational opportunities for our students."
Highlighting the success was reaching the $15 million fundraising goal to support construction of the new Performing Arts Academic Center. The PAAC, along with a fully restored Bryce Main building, will provide dance and theatre students with world-class venues and advanced equipment to hone their skills.
"We agreed to chair the Campaign for the Performing Arts because we have always recognized the importance of the arts to society," said Bill Battle, campaign co-chair. "When we saw the scope of the Performing Arts Academic Center combined with the restoration of Bryce Main, we knew it was something we had to be involved in."
This landmark facility will showcase the exceptional talent of UA students and attract larger audiences to enjoy performances. The 130,000 square foot facility will include four performance theatres — a black box theatre with flexible seating for 175 to 275 attendees, a 350-seat proscenium style theatre, a 450-seat venue specifically designed for dance and a dance studio theatre with flexible space for rehearsals, recitals and smaller performances.
Donations to the campaign included a $5.25 million gift from an anonymous donor, a gift of $1.5 million from Robert and Laura Abernathy to name the grand lobby and 20 additional gifts of $100,000 or more.
"The campaign reached its goal of $15 million because alumni and friends understood the impact and gave generously," said Mary Battle, campaign co-chair. "To each donor who has already given, we want to say thank you again. With your support, the University will have a state-of-the-art facility to prepare the next generation of artists. Your generosity has changed our campus forever."
The restoration of Bryce Main, which will include the University's new Welcome Center, is already underway. Pending approval by the UA Board of Trustees, construction on the new PAAC is expected to begin in spring 2022. A groundbreaking ceremony will be held in spring 2021 if conditions permit.
"The PAAC will bring The University of Alabama theatre and dance programs to the forefront of artistic expression," said Joseph P. Messina, dean of the UA College of Arts and Sciences. "Learning and performing in spaces that rival major performance venues across the country will provide an invaluable experience for students to seamlessly launch their careers and begin building their legacies. And with more space, the college will expand its outreach with the surrounding community and schools, enriching the area with even more opportunities to experience the many benefits of the arts."
Gifts made toward the 2020 Bama Blitz online crowdfunding campaign also played a role in the successful fundraising year. Bama Blitz, which occurred last month, highlighted how a large number of donors can make a distinctive impact on the University with 1,276 UA alumni and friends giving a total of $2.15 million.
Bama Blitz included gifts for the Tide Together Student Support Fund, which continues to offer assistance to students affected by the COVID-19 pandemic through support for housing, technology, travel and other necessities.
"This has obviously been a challenging fundraising year," said Vice President for Advancement Bob Pierce. "However, the circumstances further demonstrate the dedication of the UA faithful. Our alumni and donors are committed to the betterment of our students, regardless of the situation, and we remain grateful for their generous support."