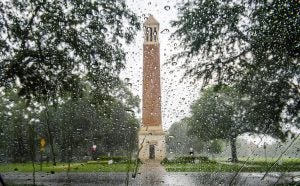 TUSCALOOSA, Ala. – The University of Alabama received a $2 million grant from the Federal Emergency Management Agency to build a storm shelter for students, faculty and staff on the University Services Campus.
The new community safe room will be able to hold 833 members of the campus community during severe weather events. The shelter will be built to FEMA 361 standards and withstand winds of 250 miles per hour.
"The storm shelter that will be built with funds from this FEMA grant will help make the University Services Campus safer for all occupants," said Ralph Clayton, associate vice president for public safety. "UA Public Safety is pleased the University received this FEMA award because it further supports safety on campus."
The shelter will be more than 6,700 square feet and include a natural gas generator to power the safe room.
The University Services Campus, located on the east side of campus along Helen Keller Boulevard, is home to many UA groups that support University operations, including Human Resources, Automotive Services and the Employee Resource Center, among others.