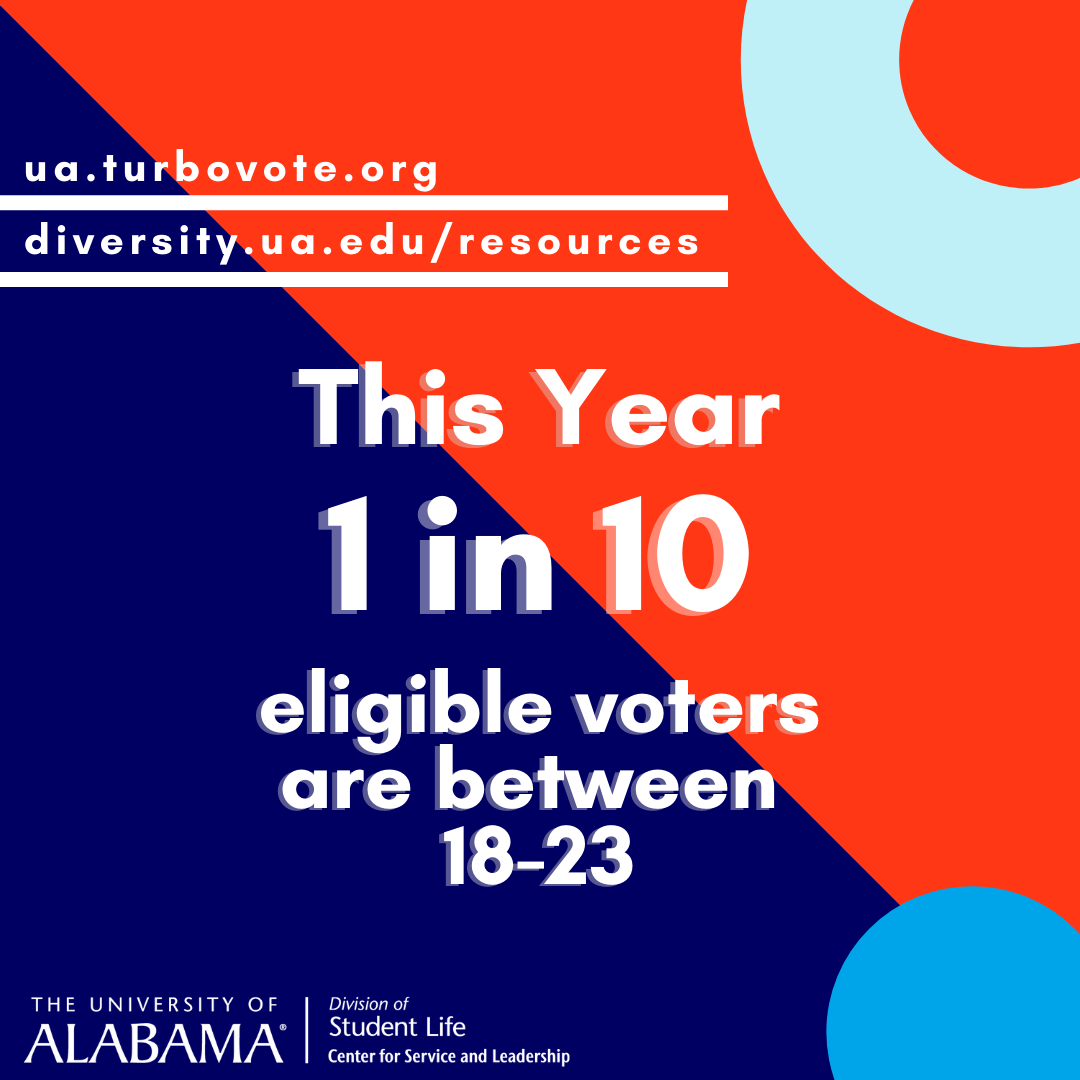 This is National Voter Education Week, a nonpartisan, digital voter education campaign designed to equip voters with information needed to successfully cast their ballots.
"We're in a big voting year in 2020 but what happens partially depends on how much coronavirus impacts things," said Dr. Richard Fording, a professor of political science and an administrator for UA TurboVote.
How to Register to Vote
TurboVote, a service that the University has provided to students, faculty, staff and citizens for three years, is one of the most efficient ways to educate UA's students about how to vote and register, said Dr. Mary Lee Caldwell, special project manager for the Division of Student Life.
"You cannot use TurboVote to vote, but it's a one-stop shop to apply for voter registration and absentee ballots," Caldwell said. "Even out-of-state students can register to vote in their home state or choose to register in Tuscaloosa. Or, they can sign up for an absentee ballot.
"When you sign up for UA TurboVote, you can sign up for text message alerts and be reminded of the absentee ballot deadline in the state you're registered in. It's a cool and an intuitive process."
According to a report from The National Study of Learning, Voting and Engagement, about 80% of UA students were registered to vote in the 2016 presidential election, but only about 60% of registered students voted, putting the overall voter turnout for UA at about 49%.
Samuel Reece, a senior majoring in political science and American studies and team leader of Vote Everywhere UA, said more than 1,000 students have signed up for UA TurboVote so far this year, most since Aug. 1. The organization's focus now is closing the turnout gap by messaging low-propensity voters.
Fording said another solution students should consider is devising a voting plan.
"Figure out if you're going to vote in-person or by absentee," he said. "If you are registered in Tuscaloosa, you can vote in-person at your assigned polling place — for students who live on campus this would be the UA Student Recreation Center."
For those who opt to vote absentee, be aware of rules in your voting area. "The absentee process can be very complicated and is very different from one state to another. It, unfortunately, requires work on the behalf of the voter with Alabama having some of the strictest absentee voting rules in the country."
Details about how to apply for an absentee ballot in Alabama can be found on the secretary of state's website, but be aware that the state's absentee ballot process has been challenged in court.
The coronavirus has caused some changes to Alabama's absentee voting process.
The list of all valid forms of ID accepted at the polls in Alabama now includes University digital ID such as UA's digital ACT cards.
Important voting dates:
Election Day is Nov. 3.
Deadline to register online to vote is Oct. 19 by 11:59 p.m.
Mail-in voter registration must be postmarked by Oct. 19.
Deadline to register in person to vote is by the close of business Oct. 19.
Applications for an absentee ballot must be in the absentee election manager's office by the close of business Oct. 29.
Deadline to return an absentee ballot in person is Nov. 2.
Absentee ballots sent through the mail must be received by Nov. 3.
The University of Alabama, the state's oldest and largest public institution of higher education, is a student-centered research university that draws the best and brightest to an academic community committed to providing a premier undergraduate and graduate education. UA is dedicated to achieving excellence in scholarship, collaboration and intellectual engagement; providing public outreach and service to the state of Alabama and the nation; and nurturing a campus environment that fosters collegiality, respect and inclusivity.