Hurricane Delta is expected to make landfall in Louisiana late Friday and then move to the northeast, impacting Alabama's weather this weekend.
According to the National Weather Service, Tuscaloosa County may experience severe weather from noon to 11 p.m. on Saturday, Oct. 10. There is a potential for a brief tornado and/or damaging winds up to 60 mph. Tuscaloosa could also see two to three inches of rain from the storm. The forecast can change before Saturday and should be monitored through the NWS website.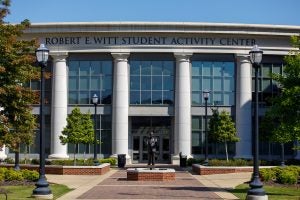 Should a tornado watch be issued, the North Campus Storm Shelter,  John H. England Jr. Hall Storm Shelter, North Lawn Hall, basement of the North Engineering Research Center and Magnolia Parking Deck Best Available Refuge Area, or BARA, will be available for all students, faculty and staff until the watch expires.
Masks are required in University shelters, and everyone is asked to practice social distancing as possible. For your safety and the safety of others, please follow the guidance of University officials while in the shelter.
Students and employees who have tested positive for COVID-19 and are in isolation, or those who have been told to quarantine for possible exposure to the virus, are asked to shelter only at the Capstone Parking Deck BARA. To avoid spreading the virus, those who choose to shelter at the Capstone Parking Deck BARA should consider parking inside the deck and remaining in their cars until a tornado warning is issued.
Students and employees are asked not to shelter at the East Campus Storm Shelter at this time, as it is being reserved for residents of Capstone Village who may be more vulnerable to the virus.
The Magnolia Parking Deck Best Available Refuge Area can accept pets with their owners.
The UA Safety app provides severe weather notifications for Tuscaloosa County. In addition, when a tornado watch or warning is issued for the campus, a UA Alert will be sent via text message and email. The alert will also display in the UA Safety app, on digital signage in buildings, and on computer screens in classrooms, labs and University libraries.
The explore feature in the UA Safety App can help you locate the nearest storm shelter or BARA.
If a tornado warning is issued, you should avoid traveling and seek shelter immediately. Classes and events are immediately suspended.
If you are not able to make it to a storm shelter, seek shelter in the closest Best Available Refuge Area location. The BARA location can also be found on the Building Emergency Plan posted near entry/exit locations of each building and within the UA Safety mobile app.
If you are not on campus when a warning is issued, seek shelter on the lowest floor in the center of the building and stay away from windows. Do not seek shelter in a vehicle or a mobile home. If you live in an apartment building, seek shelter on the lowest level. Do not remain in apartments on upper floors.
For more information on what to do during a severe weather event, visit the Office of Emergency Management's website.