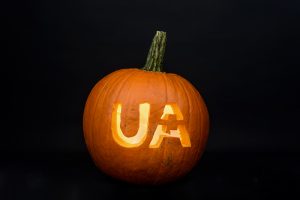 Take a photo and submit your photo, name and location to social@ua.edu, or submit your pumpkin by tagging us and using our hashtag #CrimsonCarvingContest on Twitter or Instagram by 11:59 p.m., Oct. 27. The winner will be announced Friday, Oct. 30, via UA's social media platforms. 
What you need to know: 
 Pumpkins must feature an image related to The University of Alabama.

 Create your own design or use one of the templates provided below.

 If you want to show off your skills on social media, don't forget to tag us and use our hashtag.

 

 By submitting your pumpkin photo via email or hashtag, you consent to us potentially republishing the photo.

 

 The pumpkin must be a real 

pumpkin, and

 must be carved. Painted, foam or craft pumpkins will not be eligible.

 
Competition rules 
ELIGIBILITY: This contest is open to all Alabama fans located within the United States. 
TWO WAYS TO ENTER: (a) Submit a photo of your Bama-themed pumpkin to social@ua.edu with your name and location, or (b) Post your photo on social media, tagging The University of Alabama and using our hashtag #CrimsonCarvingContest. Entries must be the sole work of the contestant. 
Entries may not include: (a) obscene, indecent, discriminatory, or insensitive depictions or images; (b) profanity or other material deemed inappropriate or offensive. If an entry includes any of the prohibited elements above, the entry and contestant will be disqualified. 
**By submitting an entry, contestant acknowledges that the entry may be posted on UA's website or social media channels. Not all entries are guaranteed to be posted. 
PRIZES: one (1) Grand Prize winner will be awarded a prize pack from The University of Alabama Supply Store, along with the opportunity to act as the judge in next year's competition. Two (2) Honorable Mentions will be awarded a Where Legends Are Made prize pack provided by UA's Division of Strategic Communications.  
JUDGING: The previous year's winner will be given the opportunity to judge all entries for the current year's competition. In the event that the previous winner declines or is unable to serve as the judge, entries will be evaluated by the social media team within UA's Division of Strategic Communications.
UA pumpkin carving templates
The University of Alabama, the state's oldest and largest public institution of higher education, is a student-centered research university that draws the best and brightest to an academic community committed to providing a premier undergraduate and graduate education. UA is dedicated to achieving excellence in scholarship, collaboration and intellectual engagement; providing public outreach and service to the state of Alabama and the nation; and nurturing a campus environment that fosters collegiality, respect and inclusivity.