The former Crossroads Community Center has changed its mission, and with that, its name.
It's now officially the Crossroads Civic Engagement Center, with a primary focus of bringing people together across political lines and advancing civic knowledge at The University of Alabama and nationally.
"The crossroads imagery in the center's name reminds us that for democracy to work well, different individuals with unique perspectives must meet to solve problems held in common," said Lane McLelland, director of UA Crossroads Civic Engagement Center. "Our job is to foster a thriving democracy at the Capstone and beyond by encouraging collaboration and healthy civic discourse."
Jackson Harris, program coordinator for Crossroads, said providing a comfortable environment to have dialogue in a highly politically factious climate is perhaps more important than ever.
"We want to help people gain the skills to navigate these issues in a way that makes us stronger rather than more divided."– Jackson Harris
McLelland said that through teaching, research and service focused on the four civic pillars of values, knowledge, skills and action, Crossroads is developing the civic capacity of students and its community partners.
She said Crossroads also supports the civic engagement research initiatives of faculty such as Dr. Cynthia Peacock, assistant professor of communication studies, who has been named chair of the civic engagement committee of the Council on Community-Based Partnerships with the purpose of enhancing civic learning and democratic engagement on campus and in the broader community.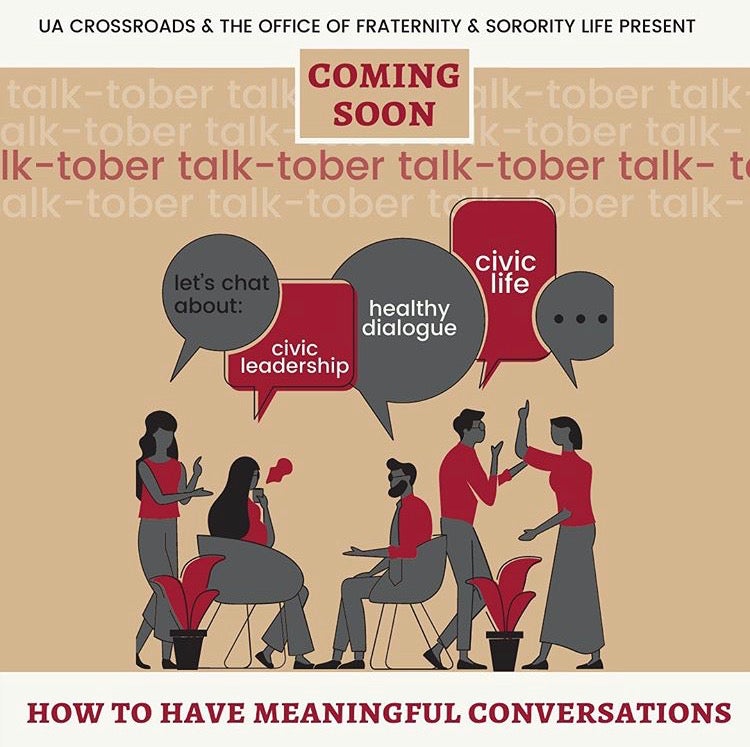 Dialogue Continues 
Crossroads will retain some of its previous initiatives in support of its current mission. For example, since 2006 the center has been a member of the Sustained Dialogue Campus Network, the higher education branch of the international Sustained Dialogue Institute.
Crossroads will also continue teaching civic leaders how to encourage dialogue in their own communities. The Campus Dialogues, which Crossroads began hosting in the Ferguson Center in 2016, trained student interns to serve as peer moderators and welcomed everyone on campus weekly to talk about current issues and community concerns.
Harris said they'll continue to use Campus Dialogues to provide students opportunities to have those conversations. But due to the coronavirus, they're turning to video instruction and providing a digital resource library to pass on those skills.
Currently, the center is celebrating "Talk-tober!" throughout the month. Talk-tober! is a collaboration between the center and the Office of Fraternity and Sorority Life that seeks to foster a culture of dialogue in the Greek community.
The celebration features a video series on the fundamentals of dialogue and Greek students sharing the importance of dialogue in the college experience.
Contact
Jamon Smith, Strategic Communications, jamon.smith@ua.edu, 205/348-4956
The University of Alabama, the state's oldest and largest public institution of higher education, is a student-centered research university that draws the best and brightest to an academic community committed to providing a premier undergraduate and graduate education. UA is dedicated to achieving excellence in scholarship, collaboration and intellectual engagement; providing public outreach and service to the state of Alabama and the nation; and nurturing a campus environment that fosters collegiality, respect and inclusivity.