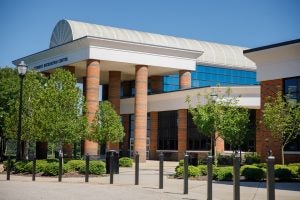 Being active is an important part of staying healthy, and University Recreation provides the campus community numerous opportunities to get moving.
Many of the facilities are now open and back to regular operating hours, with safety procedures in place.
The Student Recreation Center is open with normal hours; the Aquatic Center is open for lap swim by reservation only; the Outdoor Recreation rental center and BamaBikes are open; personal and partner training sessions are available; and group exercise is scheduled to resume on Sept. 15, with class size reduced and distance guidelines in place.
Among the things UREC is doing to help keep the University community safe while being active:
Safety policy: UREC's safety policy for its facilities requires patrons to keep at least 6-feet distance from others, wear a mask at all times while inside a UREC facility, wipe down equipment before and after use, and stay home when sick.
Sanitizing stations: Multiple sanitizing stations are available in each facility, including by all entrances and exits. UREC provides cleaning materials for patrons to use for wiping down touch points on equipment before and after using.
Regular cleaning by UREC staff: A staff team is present in each facility throughout the day for regular cleaning and sanitizing of high-touch areas. Overnight crews perform deeper cleaning of equipment and common spaces. Staff are also stationed in the cardio and weight room areas to enforce safety policy and to perform routine cleanings. Patrons are encouraged to take an active role in ensuring their own health and safety, as well as those around them, by wiping down equipment before and after use.
Physical distance: UREC has made adjustments to the placement of equipment, in addition to limiting group exercise class offerings and sizes, to adhere to physical distance guidelines.
UREC staff encourages all patrons to do their part to help ensure the safety and well-being of the UA community, especially by wearing a mask at all times while inside a facility.
For those who prefer being active virtually, UREC offers a variety of classes on its YouTube channel, and virtual personal training sessions are available.
More information on what's currently offered and COVID-19 updates can be found on the UREC website.