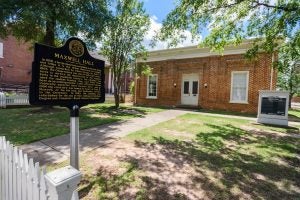 Three projects that integrate the arts with bio-psychosocial research were awarded support through a new Joint Pilot for Arts Research co-sponsored by the Collaborative Arts Research Initiative, the Alabama Life Research Institute, and the Office of Research and Economic Development at The University of Alabama.
The Joint Pilot for Arts Research sought to bring together faculty from design, fine art, the performing arts and creative writing with researchers in life, behavioral and social sciences. Supported projects clearly demonstrate the integration of disciplines to create innovative processes and discover new modes of inquiry.
"Every aspect of our collaboration with the Alabama Life Research Institute and director Dr. Sharlene Newman — from conception through the review process — was a pleasure," said Rebecca Salzer, CARI's director and associate professor of dance. "Support from the Office for Research and Economic Development amplified this work. We look forward to future opportunities to facilitate and support the impressive scope and inventiveness of University of Alabama researchers."
The funded projects include:
"Instruments of Culture and Agents of Change: Performing Arts Training as a Vehicle for Empowerment and Wellbeing among Alabama Youth," which includes Dr. Courtney Helfrecht, assistant professor of anthropology; Dr. Stephanie McClure, assistant professor of anthropology; Dr. Alexis Davis-Hazell, assistant professor of music; and Alvon Reed, assistant professor of theatre and dance.
"Dangerous Landscapes: Legacies of Nineteenth-Century Progress in the age of Climate Change," which includes Dr. Teresa Cribelli, associate professor of history; Allison Grant, assistant professor of art and art history; and Dr. Joan Barth, senior research social scientist at the Institute for Social Science Research.
"Seeing the Edges between Inking and Immunity," which includes Dr. Christopher D. Lynn, associate professor of anthropology; and Mark Barry, assistant professor of advertising and public relations.
Proposals were reviewed by a committee consisting of representatives from CARI, ALRI and the dean's office from the College of Arts and Sciences, with a total of $18,000 awarded.