UA has started its ninth year of providing free flu shots to students, faculty and staff at campus locations throughout the fall.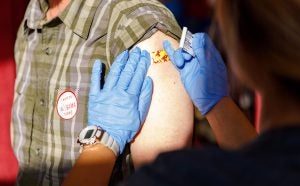 The goal of the annual campaign, led by the College of Community Health Sciences, is to make getting flu shots as easy and convenient as possible, and to protect the University community from the flu.
"When enough people are vaccinated, it is more difficult for the flu virus to spread and that means everyone is less likely to get the flu," said Dr. Richard Friend, dean of CCHS and a family medicine physician.
This year, health experts worry about an overlap of flu and COVID-19 and the potential burden to the health care system.
"Flu season is approaching and we're still dealing with COVID-19," Friend said. "Protecting yourself from the flu has never been as important as it is now."
During the flu shot campaign, nurses from University Medical Center, which CCHS operates, and from UA's Student Health Center and Capstone College of Nursing administer vaccines at the UA Quad, campus buildings and other locations on campus. WellBAMA is also a flu shot campaign partner.
While the flu vaccines are free and no insurance is required, students and employees will need to provide their campuswide identification number, or CWID.
In addition to the campus flu shot stations, vaccinations will also be provided at UMC.
Spouses of employees can also receive the free flu vaccine at the campus flu shot sites or at UMC. Children of employees with UA health insurance can receive flu vaccinations at UMC, and children of employees with non-UA health insurance can receive flu shots at UMC if their insurance has previously approved nurse practitioner coverage.
According to the U.S. Centers for Disease Control and Prevention, when a sufficient portion of a population is vaccinated from an infectious disease like the flu, it makes the spread of the disease from person to person less likely. Even individuals not vaccinated, such as newborns, are offered some protection because the disease has little opportunity to spread within the community.
The CDC estimates that 34,200 Americans died from the flu last year.
An annual flu vaccine is recommended for everyone 6 months of age and older. Vaccination is particularly important for people who are high risk for serious complications from the flu, including children younger than 5 years but especially children younger than 2 years old; adults 65 years of age and older; pregnant women and women up to two weeks postpartum; people with certain chronic disease conditions; and residents of nursing homes and other long-term care facilities.
"The best way to prevent the flu is by getting a flu shot," Friend said.
A list of scheduled flu shot events is below. Visit CCHS's website for a regularly updated schedule and more information.
September
Sept. 10: Coleman Coliseum, 7:30 a.m. – 4 p.m.
Sept. 29: AIME Building, 1 – 4:30 p.m.
October
Oct. 14: UA Student Recreation Center, 7:30 a.m. – 1 p.m.
Oct. 28: Quad in Motion, 9 a.m. – 4 p.m.
November
Nov. 3: Russell Hall Courtyard, 7:30 a.m. – 1 p.m.
The University of Alabama, part of The University of Alabama System, is the state's flagship university. UA shapes a better world through its teaching, research and service. With a global reputation for excellence, UA provides an inclusive, forward-thinking environment and nearly 200 degree programs on a beautiful, student-centered campus. A leader in cutting-edge research, UA advances discovery, creative inquiry and knowledge through more than 30 research centers. As the state's largest higher education institution, UA drives economic growth in Alabama and beyond.