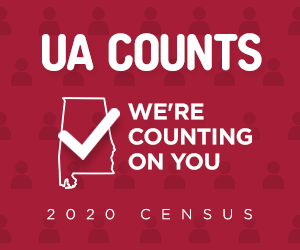 Due to the coronavirus and corresponding changes that have occurred throughout the nation and The University of Alabama, some may have missed their opportunity to participate in the 2020 Census, which is required by law.
The good news is that there are still a few days left to complete the 2020 Census before the fast approaching extended deadline of Sept. 30 arrives.
The census provides critical information to lawmakers and others that's needed for federal funding designated for hospitals, schools, roads and other public services and resources, according to 2020census.gov. The results of the census also determine the number of seats each state will have in the U.S. House of Representatives.
As of Sept. 24, Tuscaloosa's 2020 Census self-response participation rate was only 54.1%, and Alabama's overall response rate was 62.9%, according to the U.S. Census 2020 Response Rate Map. The overall national response rate is 66.3%.
In 2010, the self-response rate for Tuscaloosa was 65.2%, which is 11.1% higher than it is currently.
The University of Alabama efforts to promote the 2020 Census comprised a Universitywide collaboration with various divisions, departments, colleges, centers and student organizations, including The Office of the President, The Division of Strategic Communications, The Division of Student Life, SGA, the College of Education Educational Policy Center, the Culverhouse College of Business Center for Business and Economic Research, The University of Alabama System, Parent and Family Programs, the Division of Community Affairs Center for Community-Based Partnerships,  and the Office of Counsel.
Close the gap and get Tuscaloosa the federal funding it should have based on the population that the city serves. Take the 2020 Census online today before time runs out.
Contact
Jamon Smith, Strategic Communications, jamon.smith@ua.edu, 205/348-4956
The University of Alabama, the state's oldest and largest public institution of higher education, is a student-centered research university that draws the best and brightest to an academic community committed to providing a premier undergraduate and graduate education. UA is dedicated to achieving excellence in scholarship, collaboration and intellectual engagement; providing public outreach and service to the state of Alabama and the nation; and nurturing a campus environment that fosters collegiality, respect and inclusivity.