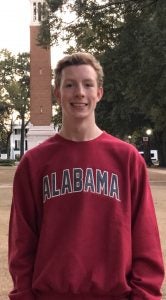 After AJ Smith toured The University of Alabama campus last fall as a high school senior, he knew he'd found the place he wanted to spend his college career. But when fall came and it was time to begin his freshman year, both he and his mom had reservations about him moving across the country in the middle of a pandemic.
"Sending a child 900 miles from home to college is a little anxiety provoking under the best of situations," said Peggy Riemer of her son, who is from Wisconsin. "I was concerned about the distance, with him being so far away. What if he would become ill, how would he be cared for, who would care for him, and what would that mean for his education?"
But according to Smith, from the moment the political science major arrived at UA in August, he has felt at home.
"I think it's a normal reaction for people to start college with a little reservation during this time," he said. "But I can say the only things I've had to deal with are normal college concerns. The COVID guidelines haven't negatively affected my life."
College doesn't look exactly as he imagined it would, but it's not far off, according to Smith, a longtime swimmer who plans to join the UA Sport Club swimming and water polo teams this winter.
"I was really lucky that one of my roommates already had a friend group, so he introduced me to them," Smith said. "I've been able to meet people across the hall, wearing masks of course. It's a little strange — we have to hang out outside, but we've been doing OK. Yesterday, I went to the Quad and we played spike ball."
Smith, who came to UA as a National Merit Scholar, said he also feels fortunate to be in person for a few classes, and he's adjusting well to online courses.
And his mom couldn't be happier with his decision to attend UA.
"AJ is thriving," said Riemer. "He is having the time of his life. He's making great friends and finding his people. That's such an important thing at this stage in their lives."
As for her initial worries related to COVID-19, she said she's felt reassured by UA's safety plan.
"The University had such a nice plan in place to meet every part of a student's needs," Riemer said. "If they would become ill or need to be isolated, providing them a case manager who would check in with them, medical services, food services, counseling services, if needed. I was really impressed with the comprehensiveness of the plan to meet students' needs, so that put my mind at ease."
And seeing her son do so well is exactly what she hoped for.
"As a mom, it makes me feel so good that he's so happy," Riemer said. "He feels like he's part of a community, and that's what you want your child to feel when they go away from home."
Watch Smith and Riemer tell their story below.
The University of Alabama, part of The University of Alabama System, is the state's flagship university. UA shapes a better world through its teaching, research and service. With a global reputation for excellence, UA provides an inclusive, forward-thinking environment and nearly 200 degree programs on a beautiful, student-centered campus. A leader in cutting-edge research, UA advances discovery, creative inquiry and knowledge through more than 30 research centers. As the state's largest higher education institution, UA drives economic growth in Alabama and beyond.