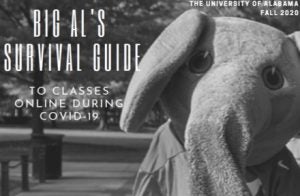 The coronavirus caused many changes to college life, but the Capstone Center for Student Success is here to help.
Dr. Jennifer L. Roth-Burnette, director of academic support for the center, said students are already showing a pattern of worry regarding their academics they normally don't display until after mid-terms.
In response, the center stepped up its level of academic coaching and tutoring support to help students over the hurdles.
"With classes being mostly online or hybrid, students can't just sit there and listen to a lecture online," Roth-Burnette said. "They have to treat it just like they were going to the classroom physically and take notes. It takes more discipline to study online, but students can push themselves through.
"Because a lot of students don't get the transfer of skills that are required, we are encouraging them to come learn skill-building and receive coaching with us," he continued. "Some may think that academic coaching is something for the very needy, but everybody needs help right now because we're all facing challenges we haven't faced before because of the condition of the world."
Tips for College Success in a COVID World
Roth-Burnette said the center's academic coaches can help students with discipline, focus and time management. They'll listen to their concerns and develop customized plans to move them forward.
They are available for one-time sessions, or help throughout the semester.
"We provide practical guidance and whatever help they need," she said. "We can help them build their study schedule and the skills they need."
Much of the practical advice academic coaches give is about self-care, Roth-Burnette said. Students – and everyone else – need to be sure they're getting enough sleep and going outside during the day to soak up some sunshine.
She suggests regular walks, time with friends at the Quad and anything else that provides fresh air.
"Take a break from the screen. Don't expect to look at screens for five hours and think you don't need a break. You have to look away and walk around." — Dr. Jennifer Roth-Burnette
She said even though lectures can be recorded, students should still take notes. Video materials that do not get full attention the first time might need to be watched again, which leads to more screen time. Engage in virtual classes the same as in-person classes.
Tutors and coaches at the center are students who have taken the same classes with the same professors so they know the best strategies to navigate the classes, she said.
Virtual academic coaching and tutoring are strongly recommended. Tutors are available by appointment 5-9 p.m. Monday-Thursday. Coaching is available any time  practical for both student and coach.
Reach coaches by email: ccsscoach@ua.edu. There's also a virtual front desk where the center's staff can be reached for immediate help through Zoom Monday through Friday from 8 a.m. to 4:45 p.m.
"We have a lot of traffic, but we can still do more and we would love to see our students take advantage of these services," Roth-Burnette said.
For more details on the Capstone Center for Student Success, view this video.