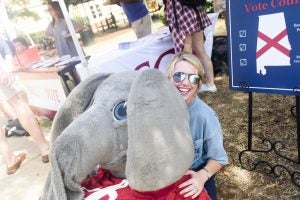 Sept. 22 has the distinction of being both National Voter Registration Day and National Elephant Appreciation Day, and Big Al is honoring both national days by being the embodiment of one and registering to vote on the other.
But Big Al isn't the only Crimson Tider celebrating the nation's right to vote that day.
At 10 a.m., Vote Everywhere UA and the Crossroads Civic Engagement Center are hosting a virtual "Get Out The Vote!" meeting with a variety of student groups and University departments.
"Multiple groups are coming together on National Voter Registration Day to create a timeline on how they can support each other on voter registration and getting out the votes," said Lane McLelland, director of Crossroads. "Part of this work is to build coalitions in being more effective in getting out the vote.
"We're trying to make sure the message is clear and disseminated across campus. To my knowledge, this effort to build a coalition to increase our campus' effort to get out the vote has never been done before."
RSVP for a Zoom link to the "Get Out the Vote!" meeting.
Also taking place that day, Vote Everywhere UA will be live on Zoom from 8 a.m. to 5 p.m. answering questions about voter registration, voter ID laws, absentee ballots and more.
"We've turned National Voter Registration Day into a week of action," said Alli Swann, a junior double majoring in political science and English and an ambassador with Vote Everywhere UA.
"We want to make it easy and accessible for students to vote by providing voting information and resources for them."
In addition, Swann said students can register to vote on TurboVote, obtain information on how to register to vote by texting UAVOTES to 56525 or going to Vote Everywhere UA's social media accounts: @ua_votes on Twitter and Instagram and @uavotes on Tik Tok.
Important voting dates to remember:
Election Day is Nov. 3.
Deadline to register online to vote is Oct. 19 by 11:59 p.m.
Mail-in voter registration must be postmarked by Oct. 19.
Deadline to register in person to vote is by the close of business Oct. 19.
Applications for an absentee ballot must be in the absentee election manager's office by the close of business Oct. 29.
Deadline to return an absentee ballot in person is Nov. 2.
Absentee ballots sent through the mail must be received by Nov. 3.