In an effort to prevent the spread of coronavirus and in accordance with The University of Alabama's return plan, COVID-19 sentinel testing of members of the campus community begins after Labor Day.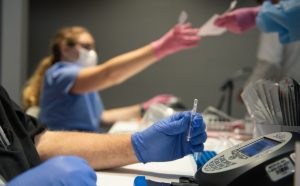 Sentinel testing is a random sampling of all asymptomatic students, faculty and staff to understand the underlying prevalence of infection on campus so UA can respond promptly to outbreaks or increases in infection rates. The goal is to test around 3% of the campus population each week.
A glimpse of the sentinel testing process is below.
The Verily Group, working in conjunction with GuideSafe, will select participants from a randomization algorithm.
Individuals selected for sentinel testing will receive an email from Verily to schedule an appointment.
Once the appointment is scheduled by the individual, Verily will send testing instructions and a reminder of the appointment.
On the day of testing, the individual will need to bring the confirmation email and identification to the testing site.
The individual will be tested and results should be returned within 24-48 hours.
Sentinel testing will be voluntary for most, but required for students living on campus and students participating in intramural athletics, registered student organizations that hold in-person meetings of 10 or more, or clinical activities.
Although voluntary for most, sentinel testing is strongly encouraged to help provide a snapshot of infection on campus and prevent the spread of coronavirus.
Individuals exempt from sentinel testing include the following:
Individuals who tested positive for COVID-19 within the past 12 weeks.

Documentation of the positive test result must be provided to UA.

Individuals currently exhibiting symptoms or who have been in close contact with an individual exhibiting symptoms.
Individuals learning or working only online and outside of a reasonable distance to likely travel to campus.
COVID-19 testing of individuals experiencing virus symptoms or who might have been exposed to the virus will continue.
More information on sentinel testing can be found online.
The following GuideSafe resources are available to students, faculty and staff:
The University of Alabama, the state's oldest and largest public institution of higher education, is a student-centered research university that draws the best and brightest to an academic community committed to providing a premier undergraduate and graduate education. UA is dedicated to achieving excellence in scholarship, collaboration and intellectual engagement; providing public outreach and service to the state of Alabama and the nation; and nurturing a campus environment that fosters collegiality, respect and inclusivity.