Congratulations to members of a Manderson Graduate School of Business MBA case team. Assembled from Manderson's student roster, the team took home  multiple awards from the recent Katz Invitational Case Competition on Feb. 8-9 at the University of Pittsburgh.
Competing against 11 teams from the country's top business schools, the team placed second and received $5,000 in scholarships. Additionally, the team won the Best School Spirit award.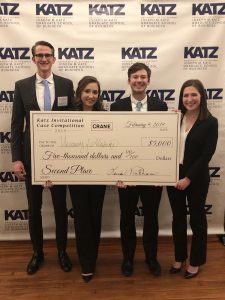 The team was represented by Lacey Cencula of Birmingham; James McCool of Mountain Brook; Esther Workman of Montgomery; and Justin Chambers of Memphis, Tennessee. Workman was also awarded Best Presenter.
"It was an honor to represent Manderson and the University of Alabama in Pittsburgh," Workman said. "Participating in the Katz Invitational Case Competition was a wonderful learning opportunity and chance to solve a real world business question. We were able to draw on each team member's strengths to create a strategic and comprehensive recommendation. Winning second place, Most Spirited and Best Presenter are incredible accomplishments after competing in the competition for only the second time ever."
This year's invitational was the seventh annual case competition hosted by the University of Pittsburgh's Joseph M. Katz Graduate School of Business in partnership with Crane Co. Each year, the competition offers a challenging, multifaceted business case based on a strategic challenge faced by the sponsoring company. The case tests teams' ability to analyze the situation and provide recommendations. The participating teams were given the case just two weeks before the competition.
"With only two weeks to create a strategic recommendation for Crane Co., a Fortune 500 company, our team began working the minute we received the case prompt" McCool  said. "We knew we were up against some of the most competitive MBA Programs in the country including Rutgers, Baylor, Florida and LSU. This fueled our motivation to produce the best pitch we could. Although it was a bumpy ride, we all agreed that we created a final product together that was far superior than any of us could create individually."
The Manderson team advanced from a preliminary round where their room included teams from the University of Florida and Rutgers. They were joined by Baylor and the University of Pittsburgh in the finals.
"In just two weeks, the team completed an extensive research phase, developed a winning thesis, built a beautiful slide deck and wowed judges in both the preliminary and final rounds," said Quoc Hoang, the team's coach and director of experiential learning. "While the awards and prizes are impressive, I'm most proud of how the team came together. I had the privilege of spending a lot of time with these students who worked hard, felt highs and lows throughout the case period and tasted success this past weekend with this great result."
For more info about the MBA case team, contact Quoc Hoang at qhoang@culverhouse.ua.edu or visit the Manderson MBA website.
Source
Zach Thomas, Culverhouse Director of Marketing and Communications, zthomas@culverhouse.ua.edu
The University of Alabama, part of The University of Alabama System, is the state's flagship university. UA shapes a better world through its teaching, research and service. With a global reputation for excellence, UA provides an inclusive, forward-thinking environment and nearly 200 degree programs on a beautiful, student-centered campus. A leader in cutting-edge research, UA advances discovery, creative inquiry and knowledge through more than 30 research centers. As the state's largest higher education institution, UA drives economic growth in Alabama and beyond.