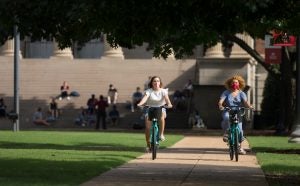 TUSCALOOSA, Ala. – A 2% increase in the number of in-state undergraduate students and record-setting Graduate School enrollment highlight The University of Alabama's fall 2020 total student headcount, which surpasses the 37,800 mark.
Total fall enrollment is 37,842, with an increase of in-state students for the second consecutive year. The number of students who identify as African American, Hispanic and Asian American is up 3.6%.
Graduate School enrollment of 5,730 is a 17.7% increase over last year and includes a 34% increase in the number of graduate students studying via distance course work.
The University of Alabama, a part of The University of Alabama System, is in the top tier of research institutions in the nation, according to the Carnegie Foundation Classification of Institutions of Higher Education of research activity for institutions that grant doctoral degrees.
Highlights of the 2020 freshman class include 42.3% with a 4.0 GPA in high school, 39.9% scoring 30 or higher on the ACT, an average high school GPA of 3.83 and 221 National Merit Scholars.
"The diversity and academic achievements of our student body continue to elevate each year," said UA President Stuart R. Bell. "We thank our students and their families for their commitment to UA, and I can't say enough about our appreciation to the faculty and staff for the work they do daily to ensure our students have the preparation, expertise and resources to succeed."
The University awarded more than 9,500 degrees over the past year. UA continues to educate and graduate more students than any institution in the state. The University of Alabama System educates more Alabamians than any university system worldwide.
Contact
Deidre Stalnaker, deidre.stalnaker@ua.edu
The University of Alabama, part of The University of Alabama System, is the state's flagship university. UA shapes a better world through its teaching, research and service. With a global reputation for excellence, UA provides an inclusive, forward-thinking environment and nearly 200 degree programs on a beautiful, student-centered campus. A leader in cutting-edge research, UA advances discovery, creative inquiry and knowledge through more than 30 research centers. As the state's largest higher education institution, UA drives economic growth in Alabama and beyond.